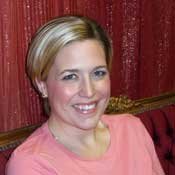 As the new Jackson and Convention & Visitors Bureau manger of communications and public relations, Marika Cackett says she has found her dream job promoting the city she loves.
"Getting to do what I do now feels just like I've won the lottery," Cackett says.
The Annapolis, Md., native moved to Jackson three years ago to be closer to family. Cackett, 32, says her past experiences, consulting for a national corporation and promoting a nonprofit organization were valuable stepping-stones for her current position, which she started last week. After graduating from The University of Maryland with a bachelor's degree in international business in 2000, Cackett moved to California where she worked as a consultant for Home Depot. In Jackson she was a public relations specialist for The Salvation Army, an experience she calls "life changing." Her favorite job duties at The Salvation Army include serving meals to the homeless and promoting the nonprofit's Toys For Tots drive.
"I have made life-long friends working for The Salvation Army," she says. "It really was such a learning experience. You begin to see the world very differently through other peoples eyes and situations, and it made me a better person,"
In her current position, Cackett writes restaurant editorials, and helps promote Jackson events such as Fondren's inaugural Zippity Doo Dah Parade and the annual Mal's St. Patty's Day Parade in March.
"(Jackson) is a diamond in the rough," she says. "We have this amazing potential. We have to keep developing and leveraging what we have. We have some amazing things here. I just want people to see what I see."
Cackett lives in Northeast Jackson with her German sheperd, Atlas. She also teaches spinning classes at Courthouse Racquet and Fitness, and is currently training for the Iron Girl Triathlon in New Orleans this May.