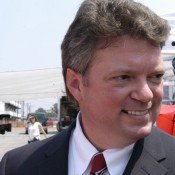 Mississippi Attorney General Jim Hood is looking for volunteers to mentor the children of incarcerated parents.
"One of the most astounding statistics that I've ever seen in law enforcement is that 72 percent of children with a family member who is incarcerated will be incarcerated themselves, so it's almost guaranteed that if we don't intervene about three-quarters of those children will wind up in the criminal justice system," Hood said at a press conference this morning.
Hood's office is partnering with Lutheran Episcopal Services' Mentoring Children for Tomorrow program, which focuses on improving the lives of children whose home environment may be negatively impacted by the loss of a parent to the justice system. MCT is looking to train "quality, caring, committed mentors" and matching those mentors with mentees, while providing ongoing support and training to mentors during the life of the mentoring relationship.
The Mississippi Department of Corrections is also supporting the program. Mississippi Department of Corrections Commissioner Christopher Epps said in a statement that he had "witnessed firsthand what can happen when our youth do not have strong guidance and positive encouragement from those they look up to."
Epps added that the program promotes healthy relationships and "a safe environment" for children.
Hood's office is assisting MCT in matching 225 children with a qualified mentor before October 2012. Mentee candidates are between ages 4 and 17, and live in the Hinds, Rankin and Madison county area.
Qualifying mentors must be at least 21 years of age and pass a criminal background check, have a high school diploma or G.E.D, and be willing to spend 6 to 8 hours per month for a minimum of one year
with a child of an incarcerated parent.
Lutheran Episcopal Services in Mississippi Director of Mentoring Services Tonja Murphy said the most important thing a mentor can offer the mentee is repeated meetings.
Oleta Fitzgerald, director of the Children's Defense Fund's Southern Regional Office, said children of incarcerated parents tend to suffer from self-esteem issues, and need stability in their lives.
"Our analysis has shown us that children of an incarcerated parent need particular attention," Fitzgerald said. "They need programs and activities that keep them grounded and out of the prison system. They need a double dose of what all children need: They need consistency and they need people who understand their environment and the situation that they live in. They need encouragement to succeed in school and in life."
Fitzgerald said society "has a way of transferring parents' inequities onto their children."
"Children of incarcerated parents are treated differently (by teachers and other adults) in many instances and expectations for them are not as high," Fitzgerald said. "This manifests itself across communities also with children struggling in single parent households."
Operation Shoestring Deputy Director Martha Alexander, speaking from her experience at Operation Shoestring's after-school care program, said too often the children of incarcerated parents "withdraw from their classmates and potential friends."
"Their academic performance is generally poor because of self-esteem issues, and a lack of confidence. Chances are that parent, even if they were incarcerated, acted like a parent and provided some semblance of support. What we've had to deal with at Operation Shoestring is trying to provide that sense of support," Alexander said. "They just lack the confidence to perform academically."
Those interested in mentoring a child can call Lutheran Episcopal Services in Mississippi Director of Mentoring Services Tonja Murphy at 601-352-7125, ext. 108, or visit LESM.org.