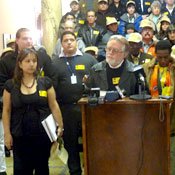 Mississippi Immigrations Rights Alliance, the leading advocacy organization for the rights of undocumented workers in Mississippi, alleges SB 2179, titled The Support Our Law Enforcement and Safe Neighborhoods Act, would require law enforcement to racially profile Latino citizens.
The bill in question, modeled after Arizona's Senate Bill 1070 and authored by Sen. Joey Fillingane (R-Sumrall), will inevitably subject Latin-American citizens to profiling, as it gives police the authority to arrest anyone "reasonably believed" to be in violation of immigration laws during routine traffic stops. Under the legislation, citizens are also permitted to sue law enforcement if officers don't arrest a satisfactory amount of immigrants.
MIRA Executive Director Bill Chandler says SB 2179 would only serve to worsen an already tenuous, anti-immigrant "climate of fear" spreading throughout Mississippi.
"The name wrongly implies that local police need to enforce federal immigration law," Chandler says. "The 'Safe Neighborhoods' part implies that immigrants make our neighborhoods unsafe."
Ulises Hernandez Rincon, a field organizer for MIRA and a U.S. citizen, says Latinos in Mississippi are already discriminated against by law enforcement because of characteristics like nationality, skin color and language.
"I regularly get asked for my passport and birth certificate by the police," Rincon says. "This would just legalize the treatment Latinos regularly receive."
Chandler recommends Mississippians passionate about the immigration issue support alternative means that tackle root causes of immigration, like reforming free trade laws.
"One of the things missing from the discussion is why people are leaving their country to find jobs in another," Chandler says. "Immigration wouldn't be so rampant if we stopped flooding Latin America with subsidized crops and allowed local farmers to control the market."
SB 2179 has been passed as amended by both houses, and is subject to final approval in conference. MIRA leaders and organizers will continue to urge lawmakers to keep the interests of Mississippi's Latino communities at the forefront of the discussion as conferees decide on a final compromise.