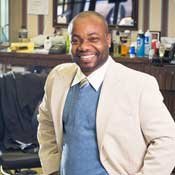 Christopher Paige's determination to make his South Jackson barber shop, Custom Cuts & Styles, a thriving business that serves the community is perhaps what earned him the title of Rising Entrepreneur and Best Barber Shop in the 2011 Jackson Free Press Best of Jackson awards.
Though Paige campaigned for the title, he says he didn't expect to win. He opened his store a little over a year ago and while he has a customer base that extends as far as Brookhaven, he knew the category had fierce competition.
The Jackson native, who has been a stylist for the past 12 years, decided to open his shop on Terry Road to bring more economic development to the area.
"I grew up in the Washington Addition area, and I noticed (Terry Road) was a highly traveled area, and I thought it would be a good location," he says. "South Jackson has lost a lot of businesses. I thought ... coming in would be prosperous for the business as well as the community."
Paige, 32, is also an instructor at the Academy of Hair Design in Jackson. He says he tries to teach his students the value of putting customer's needs before profit. He believes patience, consistency and hard work are the keys to success.
"Of course you want to make money and be prosperous in this career, but you also want to make sure you are taking care of customers," Paige says.
In the next year, the father of two wants to expand his business and open another shop in the area. He says the best part of his job is being able to interact with his customers.
"I meet so many different types of people. Everyone has to get their hair cut," he says. "Sometimes I meet people who need an encouraging word. When I can help someone with an encouraging word, that is my joy."
Custom Cuts & Styles (2445 Terry Road) is open Tuesday through Saturday 8 a.m. to 7 p.m. For more information, call 601-321-9292.
In this week's Best of Jackson issue, the Christopher Paige pictured in the issue is not the owner of Custom Cuts & Styles. We apologize for the error and will also correct it in the next print edition.