Thursday, January 27, 2011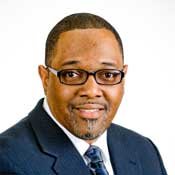 Kenneth Braswell wants fathers to step up. The keynote speaker at Jackson Public Schools' Dads of Destiny Conference this evening, Braswell advocates for responsible fatherhood through his organization, Fathers Incorporated, and the New York State Fatherhood Initiative.
After working as a journalist for community newspapers, Braswell, 47, founded Fathers Incorporated in 2003. The organization helps fathers manage custody issues and child support, and trains them to become more responsible parents and role models. In 2006, he became director of New York's Fatherhood Initiative, which coaches fathers to contribute more to their children's economic and emotional well-being.
A father of four, Braswell has written several books and reports on parenting. He appears regularly as a guest speaker and media commentator.
Braswell's appearance is part of the marquee event of JPS' WATCH D.O.G.S. (Dads of Great Students) program, which uses retreats and workshops to build fathers' involvement in school life. The program began in 2003 with the support of then-Superintendent Earl Watkins, other male administrators and school board members.
"We're the first (district) in the state to recognize the benefit of having fathers as active stakeholders," Program Coordinator Fredrick Nolan told the Jackson Free Press. "Mothers have typically been the stakeholders, and the nation as a whole has a problem with fatherlessness."
The initiative seeks to increase the active presence of male role models in schools, bringing fathers and father figures into schools to monitor buses, patrol halls and spend time with students.
The theme for the evening's event is "Dads are the gatekeepers to the village."
"We have to practice what we preach for our children," Nolan said.
The Dads of Destiny Conference starts at 5:45 p.m. today at Cardozo Middle School, 3180 McDowell Road Extension. Registration for the free event starts at 4:30 p.m., but JPS encourages fathers and father figures to pre-register by calling their child's school or 601-960-8878 or 601-960-8885.