Wednesday, January 26, 2011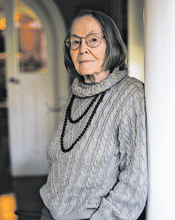 The literary world knows her as Ellen Douglas, critically acclaimed writer. Many Mississippians fondly recognize her as Josephine Haxton, mother of three accomplished sons, a Democrat, an Ole Miss graduate. To her friends, she's just Jo, full of life and camaraderie and fun, someone you want to hang out with. By whatever name, this Jacksonian is her own woman.
In her life and in her writing, Jo has always addressed the tough issues--race, women's rights, sex. She was an outspoken and committed activist for civil rights before most white Mississippians dared say a word. In her short stories and novels, she explored the complexities of race relations in the Deep South. Anyone who enjoyed "The Help" or who wished for more insight will want to read "Black Cloud, White Cloud" (1989, University Press of Mississippi, $30) and "Can't Quit You, Baby" (1989, Penguin, $18).
As she approaches her 90th birthday on July 12 of this year, Jo is back at her Belhaven home after a brief hiatus spent with her sons and their families--Ayres, a lawyer and lobbyist in Jackson, musician Richard in California and poet Brooks in New York--and at her family's 19th-century farmhouse near Natchez. Now, in addition to her attentive son Ayres, she enjoys the full-time companionship of Martha Gomez, who returned with her from California.
Born in Natchez, Jo grew up mostly in Louisiana, married Kenneth Haxton in 1945, and brought up her children in Greenville. She moved to Jackson in 1983. An avid reader of serious literature, she began writing when her youngest child entered kindergarten. The New Yorker published her story, "On the Lake," in 1961, and her first novel, "A Family's Affairs," came out to enthusiastic praise in 1962.
Since then she has written dozens of stories and essays, published nine books, and won a passel of literary awards and accolades. In addition, she has guided scores of aspiring writers at Ole Miss, Sewanee and other literary venues around the country. It was Jo, in fact, who recognized the talent of an Oxford fireman named Larry Brown and helped him improve his early work.
To celebrate her remarkable literary career, the Eudora Welty Library inaugurated the Ellen Douglas Meeting Room last fall with a marvelous program of tributes and a standing-room-only crowd of friends, family and fans.
Jo is less active now, of course, and she no longer spends her days writing books, but her spirit is going full tilt. "She's an inspiration to me every day," Gomez says, "the way she keeps going and stays focused on the future--what to do about global warming, for instance."
Jo loves, as always, to discuss literature and current politics. She has the same hearty guffaw and that amused, sometimes wicked twinkle in her eye. And, yes, she can still spew forth the F-word with more gusto than anyone I've ever known!