Tuesday, January 25, 2011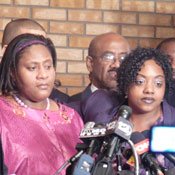 Less than three weeks after her release from prison, Jamie Scott has been hospitalized. Activist Nancy Lockhart, who worked for more than five years to free Jamie and her sister, Gladys, said in an e-mail press release that Jamie was admitted to the hospital in Pensacola, Fla., today for an "excessively high potassium level." Jamie Scott suffers from diabetes and has been diagnosed with renal failure. Her medical conditions, and the cost of caring for her, was one of Gov. Haley Barbour's justifications for ordering the suspension of her and Gladys' life sentences for a 1993 armed robbery.
Since their release on Jan. 7, both sisters "have had a very rough time adjusting, with little funds to support themselves," Lockhart said in the statement. Barbour's order suspending the sisters' sentences effectively placed them on parole, and the two must meet regularly with a parole officer in Florida.