Tuesday, January 25, 2011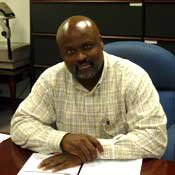 Ward 3 Councilman Kenneth Stokes made a rare visit to the Monday work session yesterday to throw his support behind Jackson Public Schools Superintendent Lonnie Edwards, who is up for an evaluation from the school board tomorrow.
Stokes, who seldom attends Monday work sessions, said he wanted to help "save" the school superintendent.
"I'm not saying that he's drowning, but he's done a good job," Stokes said. " ... I think the vast majority of the citizens of this city would all agree that the superintendent has done a yeoman's job. He has gone above the call of duty."
Stokes pushed for a quick confirmation of the two new proposed board members, Linda Rush and Timothy Collins, implying they could help secure Edwards' contract, which expires in June.
"I'm hoping we will find a way for new members to set confirmation hearings as soon as possible so we can bring the new members on," Stokes said. "There are other issues dealing with these two appointments, but I wanted to make sure I came today to make a quorum to discuss it and diffuse (concerns)."
Ward 2 Councilman Chokwe Lumumba said he also supported Edwards' contract extension. However, the decision to retain Edwards is not up to the council. The Jackson Public Schools board began an annual evaluation of Edwards in January and will decide his fate.
Edwards has been with the district three years, and board members have second-guessed several of his decisions during that time. In 2009, the Jackson Free Press reported that board members had refused to approve some aspects of the district budget, including funding for some new buses, textbooks and school nurses. Board members complained at the time that they needed more information on those three issues from the superintendent's office.
Board members also complained that Edward's office needed to justify spending $275,000 on new books with an audit, arguing that the district's non-expanding student body did not justify the need for new books amid a year of statewide budget cuts. Also in 2009, board members Delmer Stamps and H. Ann Jones criticized Edwards' proposal to hire JBHM Education Group for consulting work without first offering the proposal to the Council of the Great City Schools, a nationwide coalition that JPS already belongs to and pays a $30,000 membership for consulting and other services.
Board member Ivory Phillips told the Jackson Free Press in 2009 that he occasionally received information from the school district too late to make an informed decision.
Phillips did not return calls this morning.
More recently, board members questioned Edwards' failed proposal last year to move JPS administrative offices into the largely underused Metrocenter Mall on Highway 80, citing cost concerns.
City Council President Frank Bluntson said last night that board members had "micromanaged" Edwards during his JPS career.
"We have to be fair to the superintendent because he's just really gotten his folks on staff within the last eight or nine months," Bluntson said. ".... This board doesn't even know the superintendent. They should at least try to know him."
Mayor Harvey Johnson Jr., who attended the work session and selected Rush and Collins as JPS board candidates, did not comment on Edward's ability, but he did stand behind his nominees. Johnson described Rush as a passionate member of the PTA who had shown a willingness to work with parents in the past. He also praised Collins, who is executive director of the Mississippi Housing Partnership.
"I know where (Collins') heart is: public service is the order of the day. He's been providing housing for people for years, and has been working with Jim Hill (High School) as a member of the band boosters (and) working with the PTA. He's a good person, and has worked in a board setting," Johnson said.
Collins, a Jackson State University graduate, told the Jackson Free Press this morning that he is looking forward to working with the school board for the best interest of the students.
"I've always liked working with kids," Collins said. "My own son just graduated Jim Hill."
Rush, who is also a Jackson State University graduate, is director of the Department of Scholarships and Recruitment at JSU.
The city council is schedule to set a date for a confirmation hearing for Rush and Collins to the JPS board at tonight's meeting at 6 p.m. in City Hall.
Previous Comments
ID

161798

Comment

Edwards is personable but beyond that he CLEARLY lacks the skills, vision, and more importantly the expertise necessary to run a school district this size. I would question Councilman Bluntson about giving him more time because he just got his staff together…. So you're saying it took him 3 years to put a staff together? And exactly what staff? Give me names… who has he brought on board or promoted? I haven't heard or read about any new hires, but I've sure heard about, and talked to quality staff people that left or retired because they realized the ship lacked a captain and it was sinking. I do support the mayor's nominations to the school board. Thank goodness one of them still has a child in JPS. I have children in JPS and I am keenly aware of the plight of our schools. Our community suffers when our schools suffer. Edwards has failed our students because he just doesn't have what it takes. Let's move on and find someone who is qualified to serve our students and our community. I tell my children all the time, don't settle for second best. Why should they have to?

Author

833WMaple

Date

2011-01-25T15:10:10-06:00