Tuesday, January 25, 2011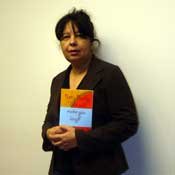 Bernice Rayford, 50, has more to offer the literary world than just "Collard Greens and Ham," the title of her debut self-published novel in 2005. She recently completed her seventh novel, "Betty Bushy: She Will Make You Laugh."
"It's not about me, even though my husband says it is," Rayford says with a giggle.
Betty Bushy is a 50-something, colorblind woman who is "going through the change of life" and doesn't get pedicures like she should.
Although Rayford says Bushy isn't based on herself, she said they share some similarities, particularly long, dark hair and light skin. The Camden, Miss., native and youngest of 10 began writing at an early age and isn't inspired by anything specific. She just writes.
"When I sit down in front of the computer, it just comes," she says. "It seems like I was just born to do this."
Rayford not only writes, but she also paints and has sold some of her folk art to a few restaurants and libraries, making her somewhat of a Renaissance woman. She holds an associate's degree in marketing and general studies from Hinds Community College. She is currently finishing her bachelor's degree in public relations from Mississippi College.
"And I'm still working 40 hours a week," she says of her retirement home job in Madison.
Although she is quite busy, Rayford still finds time to paint pictures with her words.
She said the name Betty Bushy just popped into her head.
"I don't know where she came from. She just came," Rayford says.
As for advice for wanna-be self-published writers, Rayford offers some words of wisdom: "First, go ahead, and you write. And you enjoy what you do. Look on the Internet and find a company that is right for you. You have to search and investigate."
Rayford's books are available on amazon.com and at Barnes & Noble. "Betty Bush" is available online at lulu.com. Rayford will discuss her book along with other authors at the Eudora Welty Library on Thursday, Jan. 27, at noon.