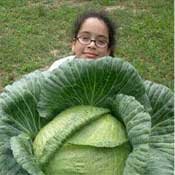 "It's bigger than my head," 9-year-old Luisa Macedo says as she describes her 21-pound cabbage that named her the Mississippi winner of the National Bonnie Plants Cabbage Program award. A Senatobia native, Macedo is now in the fourth grade at Senatobia Middle School, but won the award as a third grader.
Macedo learned of winning her award in August 2010. She has always loved gardening and has planted vegetables at her home for years before she began growing her own cabbage. She enjoys growing a variety of vegetables but doesn't like hot chili peppers. She says it took a long time to grow her 21-pound cabbage. This year, the program wants to expand to more school districts throughout the state. Any third-grade teacher in the state can register their class to participate in the program until March 1.
Growing cabbages is not all Macedo is up to, though. She enjoys playing with her two dogs, Usher and M&M, playing her piano and Nintendo DS, and jumping on her trampoline with her friends and little sister, Anita.
Macedo's favorite school subject is social studies, and Macedo wants to be a pianist, an astronaut and a doctor when she grows up. Wendy Gregory, Senatobia Middle School's guidance counselor, describes Macedo as a "wonderful, delightful model student."
The National Bonnie Cabbage Plants program, started in 1995, delivers free oversized cabbage plants to participating third-grade classrooms nationwide. Students learn the importance of gardening along with the appropriate steps to grow an extra-large cabbage. The young gardeners learn that cabbages need sunlight, plenty of space, soil, food, water, time, and most importantly, tender love and care. In 2010, more than 1.5 million third graders in 45 states competed to grow the largest cabbage. Macedo, along with winners in other state winners, received a $1,000 college scholarship.
"(The program) exposes children, first hand, to the benefits of growing your own nutritious food, and it's a great source of physical activity," Stan Cope, president of Bonnie Plants, said. "The cabbage program, over the past 15 years, has proved to be an enriching hands-on experience that kids and teachers across America have embraced. Seeing students excited about learning and the art of gardening is what we strive for."
Senatobia Middle School is one among many Mississippi schools participating in the program.
The Bonnie Plants Cabbage Program is currently enrolling third-grade classes for the 2010 to 2011 program. Teachers can register their class online through March 1.
Do you know a Jacksonian or Mississippian who should be the JFP Person of the Day? Briefly tell us his or her story, sending it to [e-mail missing]. Please include contact information and a picture, if possible.