Thursday, January 20, 2011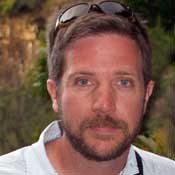 For years, Chandler Griffin has observed the tough work of international development. As a documentary filmmaker for nonprofit organizations working in Rwanda and Uganda, among other countries, the Jackson native has seen the challenges of trying to build sustainable programs. But he never imagined tackling those challenges himself.
In 2005, Griffin visited northern Uganda for the first time and was struck by his visits to camps for people displaced by the Lord's Resistance Army's decades-long civil war with the national government. Though the settlements they called home often looked like a "bad version of a refugee camp," the people Griffin encountered found solace and community in music and the arts.
Griffin returned to the United States determined to produce a CD of music by residents of the camps and began tracking down potential sponsors. His plans might have remained relatively small, if not for an encounter with musician and painter Joseph Arthur.
After hearing Griffin's stories of Uganda over dinner one night, Arthur immediately went home and composed a song.
That song, "A River Blue," became the impetus for an arts festival that Griffin and Arthur produced for 100 young people in the Alebtong camp in northern Uganda, in August 2006. Arthur recorded versions of the song with choirs of young people, and participants found release in making art.
Before he left that summer, a group of residents approached Griffin about making the event a more permanent success: The camp had a dilapidated building with around 20 sewing machines. Could he do something with it?
"I don't do that--I make films about people that do that," Griffin remembers saying.
Nevertheless, Griffin approached some fundraisers, and he pulled together $100,000 to renovate the building. The next year, Griffin established A River Blue, a vocational training and rehabilitation center. For nine months of each year, the center provides 27 young people with job training, lessons in agriculture and tailoring and basic English instruction. At least half of the 16- to 23-year-old participants are women, and all tend to be the most vulnerable young people in the camp--those without parents, or with children of their own.
Griffin's goal is to make A River Blue self-sustaining. Most of the center's staff is Ugandan, and he makes it a point to take advice from them on the program's management. He envisions setting up a chicken coop to give the participants tangible business skills and the center a source of income.
"My goal is not to tell these people what they need to do to fix themselves," Griffin says. "My goal is to give them the resources, to identify those people who have the solutions but just need those resources."
Griffin, 35, attended Jackson Prep and the Savannah College of Art & Design. He now splits his time between Los Angeles and New York City. In 2005, Griffin founded Barefoot Workshops, a nonprofit that teaches documentary storytelling to individuals and non-governmental organizations. Barefoot hosts workshops for amateurs and experienced documentarians alike in the Mississippi Delta, South Africa, India, Australia and the West Bank.
On Jan. 29, Griffin hosts a fundraiser for A River Blue at Hal & Mal's. The event features musical performances by Blue Mountain, the Kudzu Kings and Taylor Hildebrand. Admission for the event, which starts at 6:30 p.m., is $20. For more information, visit ariverblue.org or the event's Facebook page.