Wednesday, January 19, 2011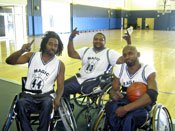 Two nights before Halloween, on Oct. 29, 1995, Robert Estes' life changed forever. As a boy, Canton native Estes loved to travel to see his family in St. Paul, Minn., and when he graduated from high school he moved there.
"I wanted to try big-city life," Estes says.
While out with his brother, Calvin Brown, that October night, their car broke down. Estes, then 19, got out of the car to push, while Brown steered the vehicle to get it off the highway. The driver of a van traveling down the same highway did not see the broken-down car until it was too late. He slammed into Estes, severely injuring his back and legs.
After the accident, Estes had several surgeries over the span of a week, and had to make the decision to have his left leg amputated above the knee because of an infection.
Once out of the hospital, Estes spent the next year and half in a nursing home where he underwent physical therapy. Despite the therapy, the vibrant young man will be confined to a wheelchair for the rest of his life.
Now 35, Estes credits his family with helping him to become independent. "I do not know what I would do without my family," he says. "It seemed every week my mother was there to see me—along with my aunts, uncles, cousins and everyone else in my family."
An upbeat person, he didn't allow his adversity to keep him down. For his 21st birthday, Estes wanted to go to a comedy club. He thought he would have to spend the day in the nursing home, but he was able to go out with his family, giving him his first real sense of freedom since the accident.
In March 1998, Estes returned to Canton. He admits jobs were hard to find because of his handicap. He went back to school and enrolled at Holmes Community College, where he earned an associate degree in computer science in 2001.
Estes found work at Living Independence for Everyone, or LIFE, through the AmeriCorps Project. LIFE is a nonprofit organization that helps disabled individuals transition from nursing homes to independent living by teaching job skills and providing furniture and other assistance. Working with AmeriCorp was a two-year commitment, but his supervisor, Margie Moore, hired him permanently in 2003 to work with clients.
At LIFE, Estes met James Clayton who, at the time, was president and captain of the Mississippi Magic wheelchair basketball team. Estes began playing for the Magic in 2002.
He smiles when asked whether the accident affects his ability to play. "I couldn't dunk before my accident, so it does not make a difference now," he says, laughing.
Wheelchair basketball is played much like regular basketball. The game is played with five players on the court. Fouls are called for excessive physical play, and players are allowed five fouls per game. To not be called for traveling in wheelchair basketball, a player must bounce the ball once for every two pushes. Three-second violations and free throws are handled just like regular basketball.
Clayton left the Magic after a heart attack, and the team members competed for the team captaincy by running competitive drills. The Magic named Estes as its new captain in 2008, and he is in the process of rebuilding it along with five deeply committed players.
Basketball helps motivate him, Estes says, and gives him resources for handling daily life. He loves playing, and says that basketball helps make him a part of society. It teaches players that life doesn't end just because they are in a wheelchair.
Today, Estes is a family man who enjoys going to local high-school football games and supporting the Mississippi Magic. He found love with his former high school sweetheart, Yashika, and the couple married in 2005.
They are the proud parents of two girls and three boys.
Estes sees the lack of handicap-accessible businesses in the Jackson area as an impediment to the disabled. Those in wheelchairs have a hard time shopping at stores other than big-box chain retailers, he says. "[P]eople in wheelchairs are people, too," Estes says. "We want to use your business and support local business, but we need accessibility."
Mississippi Magic plays at Jackson State University on Saturdays and Sundays and travel to compete in other states. Jan. 22, they will play the Jackson Police Academy and an AmeriCorps group, 11 a.m. to 3 p.m. at the Johnnie Champion Gym (1355 Hattiesburg St.) as part of a Martin Luther King Jr. Day project for the Low Income Networking and Communications Project. Call LIFE at 601-969-4009 for more info.