Wednesday, January 19, 2011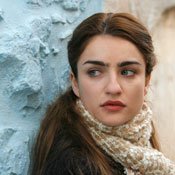 Like most art forms, there's something about a film that brings people together. Lessons about love, life and relationship always strike a chord, no matter your religious, familial or ethnic background. Some things are just universal.
The films at this year's Jackson Jewish Film Festival, a pre-eminent showcase for movies that examine Jewish life, are no different. The festival and its films celebrate ethnic diversity and promote multi-cultural dialogue for the ninth year in a row. From Saturday, Jan. 22, through Tuesday, Jan. 25, see four outstanding films, from "Ajami," the most critically acclaimed Israeli film ever to be made, to the documentary, "Where I Stand: The Hank Greenspun Story," to "The Secrets" (with a special dinner at the Fairview Inn before the show), to the closing night gem, "For My Father." Providing a panoramic worldview, these movies encourage tolerance and understanding and appeal to our humanity.
The festival opens Saturday at 7 p.m. with "Ajami," a film that won the 2009 Israeli Academy Award for Best Picture, received an Oscar nomination for Best Foreign Film the same year and a special mention at the Cannes Film Festival.
Co-written and co-directed by Scandar Copti and Yaron Shanim, who come from different faiths (Copti is a Christian Israeli Arab and Shanim is a Jewish Israeli), "Ajami" is an intense and harrowing film. The movie explores five different stories set in the impoverished neighborhood of Jaffe, which is technically in Tel Aviv and known as "Ajami." Non-professional actors who speak in Arabic and Hebrew play the main characters, and this combination lends itself to an authentic experience. The film balances broad political implications with intimate characters, and the result is a griping portrayal of the Middle East conflict.
On Sunday, Jan. 23, at 2 p.m., the festival screens Scott Goldstein's documentary "Where I Stand: The Hank Greenspun Story." Narrated by Anthony Hopkins, with an original score by Elik Alvarez and Freddy Sheinfeld, this documentary examines the life of Herman "Hank" Milton Greenspun.
Greenspun was a tough Brooklyn kid who went from lawyer to businessman to arms runner for the then-new nation of Israel to the controversial, crusading editor and publisher of the Las Vegas Sun to political activist cleaning up a mobbed-up city, ending segregation on the Strip and protesting the dumping of nuclear waste in Nevada. We see Greenspun emerge in this documentary as a "Zelig"-like figure (from Woody Allen's 1983 film), showing up in the background of nearly every major event of the 20th century.
Goldstein, whose credits as a writer, producer and director include "L.A. Law," "Doogie Howser, M.D." and "The Today Show," drew from a treasure trove of information. Greenspun left behind columns, new stories, books, diaries, letters, filmed appearances, newsreels, photographs, home movies and family members who wanted to share his legendary story.
Goldstein blends these elements into a well-crafted and captivating film. Filmmaker Scott Goldstein will be on hand to speak about the film after the screening.
"The Secrets," directed by Avi Nesher and starring one of my favorite actresses, Fanny Ardant, screens Monday night, Jan. 24. This deeply involved film tells the story of Noemi, the daughter of an ultra-Orthodox rabbi. She is her father's most learned and devout student until her fall from grace. She refuses to be submissive to the will of her father and her future husband, and she dares to think that someday she could be a rabbi.
When her mother dies, Noemi begs her father to put off the wedding to allow her one year of study at a women's religious seminary in a secluded town in Israel. At seminary, Noemi meets the wildly passionate Michel. The two find themselves befriending Anouk, an ill French woman, just released from prison. Even though she is not Jewish, Anouk seeks Jewish healing, and Noemi performs the role of a rabbi. Through the process of helping Anouk, Noemi and Michel become romantically involved, and family fall out is inevitable. This film goes deeper than melodrama, seeking to reconcile opposing religious beliefs and sexual intolerance.
The festival closes Tuesday night, Jan. 25, with the transcendent drama "For My Father," directed by Dror Zahavi. Nominated for seven Israeli Academy Awards and winner of the Audience Award at the Moscow International Film Festival, this film tells the story of an eventful weekend in Tel Aviv where things go terribly wrong--and right.
"You're doing something important,'' an older Palestinian terrorist tells Tarek, a shaken young Arab who knows he will die a violent death within two days. He's a suicide bomber, avenging his father's cooperation with the Israelis. With explosives strapped to his body, Tarek walks into a crowded market in Tel Aviv, positions himself near a news camera, and pushes down on the detonator. Nothing. The trigger's broken, and Tarek finds himself asking a Jewish electrician for a replacement.
While waiting for the new part, he forms an intimate, meaningful bond with a young Israeli woman, as well as a new appreciation of how both Israelis and Palestinians are trapped by their cultures. As a result, Tarek begins to rethink the value of his own life. The powerful subject matter and the strong performances sustain this film to its poignant end.
Jackson Jewish Film Festival
Saturday, Jan. 22, 7 p.m., "Ajami"
Sunday, Jan. 23, 2 p.m. "Where I Stand ... The Hank Greenspun Story"
Monday, Jan. 24, 7 p.m. "The Secrets"
Tuesday, Jan. 25, 7 p.m. "For My Father"
All films screen at the Millsaps College Recital Hall, 1701 N. State St., except "The Secrets," which screens at the Fairview Inn (734 Fairview St.). Purchase tickets by mail from the Jackson Jewish Film Festival (5315 Old Canton Road) or at the door. Individual films are $12 per screening ($5 for children). A festival pass for all four films is $40. A $150 patron pass includes a sponsor reception at 6 p.m. on Saturday, Jan. 22, at the Millsaps Recital Hall third floor art gallery. For more information, visit bethisraelms.org, or call 601-362-6357.