Wednesday, January 19, 2011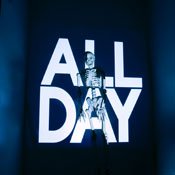 "All Day" by Girl Talk is the latest entry in what is rapidly becoming "the" sound of the 21st century. The mash-up fits perfectly in a society where everything competes for attention in a machine-gun blast of information and advertising. It is no surprise that the melding of hip-hop, pop and rock hits, and oddities that DJs and turntablists have forecasted for years, has finally occurred. A manic, attention-deficit tornado-tearing-through-the-history-of-modern-sound, "All Day" is a cool record store run through a shredder and randomly taped back together to form new music.
Girl Talk is actually Gregg Gillis, a former bioengineering student turned DJ. It's one guy, a laptop, some software, a silly name and a boatload of samples. And while the artist claims "fair use" as his protection against copyright issues, putting out an album for free that relies so heavily on the work of others takes "profit motive" away from any would-be legal challenges.
The producer recommends listening to the tracks as one seamless piece, and it is solid advice. Samples from the last 50 or so years—rock staples, one-hit wonders, cheesy pop singles, hip-hop, the British Invasion, hippie anthems, '70s stoner rock, '80s soundtrack gems and more—fuse and bleed into one another, morphing as they go to create an instantly familiar and altogether new aural chimera from the ashes of popular music. On top of it all, Gillis layers some of the most capable and versatile MCs, rappers and rhyme-smiths around. The beat-laden approach unifies the rock and rap aspects and make it all sound incredibly new, as if it should have been matched up to begin with.
To try to critique "All Day" in terms of individual tracks would be an injustice to the strength of the album as a whole. The scope shifts in tempo and time, and its unclassifiable genre make it an effort in futility that reinforces the argument to just hit "play," and let it be until the music stops. The only constant presence is an unending beat and the feeling that Gillis doesn't just love music, he is in love with music.
Like a collage made from every iconic image from the last half century, "All Day" forces you to re-imagine the known—in this case, the music you grew up with—in a repurposed context. It is prefabricated soundtracks assembled for the montage mentality. What Girl Talk and other mash-up artists are doing, in general, is not just regurgitating popular music as much as exposing the snake-eating-its-own-tail redundancy of it, then asking if it wants a second helping.
"All Day" is available as a free download via Girl Talk's website, http://illegal-art.net/allday. Download it as a single album-length track or tracked individually.
Offering their creations for free is an interesting idea that more artists, musical or otherwise, will hopefully embrace as a beneficial concept to promote their work and reward the people who support them. Call it the spirit of the 21st century.