Tuesday, January 18, 2011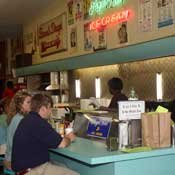 Brent's Serving Breakfast
Longtime Fondren lunch spot Brent's Drugs started serving breakfast Saturday. The soda fountain and lunch counter closed its pharmacy operation in 2009, and new owner Brad Reeves has had his sights on serving breakfast since purchasing the venerable eatery. The morning menu includes traditional Southern breakfast fare and lighter dishes.
Brent's serves breakfast Tuesday through Friday, from 6:30 to 10 a.m., and Saturday, from 7 a.m. to 10 a.m.
Scurlock's Serving Lunch
Scurlock's Donut Shop and Eatery, located downtown, has expanded its hours and menu to offer lunch. Owner Mark Scurlock said the lunch menu features hamburgers and fries.
Scurlock's (125 S. Congress St.) is now open Monday through Friday 7 a.m. to 1 p.m., as well as the first Saturday of each month from 7 a.m. to 1 p.m. For more information, call 601-922-8618.
Small Business Loan Amount Increases
Mississippi small businesses are eligible for $153,139,200 in loans beginning Oct. 1, the U.S. Small Business Administration announced last week. The amount represents a 186 percent increase in loans from last year.
The loans are meant to help small businesses compete for federal contracts and expand operations. For more information on the loans, visit the SBA website or call 601-965-4378.
Fondren Parade Seeks Support
The Fondren Renaissance Foundation and the Fondren Association of Businesses are seeking volunteers and merchants to participate in the Zippity Doo Dah Parade and Festival March 24 through 26. The festival is expected to bring hundreds of Sweet Potato Queens to Fondren. The parade route begins at the Woodland Hills Parking Lot on State Street, extends to the intersection of Old Canton Road and continues north on Duling Avenue. For more information, visit the parade's website or e-mail [e-mail missing].
Local Products Featured on TODAY Show
On Jan. 5, the TODAY Show featured anti-skin aging products from Rodan + Fields, a dermatology skin-treatment company. Last year, local entrepreneur Joy Davis partnered with the doctors who created ProActiv Solutions, a high-selling acne medicine, to form Rodan + Fields. The products repair sun damage, brown spots and fine lines. For more information, visit the Rodan + Fields website.
Previous Comments
ID

161692

Comment

Also, Obama wrote in a WSJ op-ed about reviewing policies and regulations that hurt job creation. He specifically mentioned shedding rules that hurt small businesses. Deregulation. Yes We Can. Read it here: http://online.wsj.com/article/SB10001424052748703396604576088272112103698.html?mod=WSJ_Opinion_LEADTop

Author

jbreland

Date

2011-01-18T14:08:28-06:00