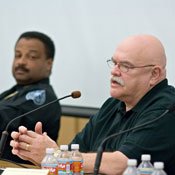 Long-time Hinds County Sheriff Malcolm McMillin announced last week that he will seek re-election in November. Currently, McMillin is the only candidate to announce a run for the position.
McMillin, who has served as Hinds County Sheriff since 1991, starting working for the Jackson Police Department in 1972. He served a dual role as sheriff and JPD police chief under the late Mayor Frank Melton. On the Hinds County Sheriff's website, McMillin touts accomplishments including opening a new jail in Raymond in 2008, and adding a K-9 unit, a narcotics unit, a juvenile unit and a mounted patrol unit to the department.
In September, McMillin criticized the Hinds County Board of Supervisors for approving a budget for fiscal year 2011 that would close 20 positions in his department.
McMillin was at the center of the controversy surrounding the investigation of Karen Irby, who killed two doctors and injured her husband, Stuart, and herself after she left the Jackson Country Club the evening of Feb. 11, 2009. Police reports found that Irby was speeding while intoxicated at the time of the crash. Accusers claim that McMillin, who was also serving as Jackson police chief at the time, tampered with the investigation to help Irby. McMillin told the Jackson Free Press in April 2010 that he made a point to keep his distance from the case because Stuart Irby, who he calls a friend, donated money to his previous sheriff's campaign.
Retired JPD Deputy Chief Tyrone Lewis, who is rumored to be considering a challenge to McMillan, told the JFP today that he hasn't made a decision yet.
"I am talking with advisors and visiting with neighborhood associations," he said. "I am trying to get a feel (for) if they are ready for a change, or are concerned with the sheriff's department."
The qualifying deadline to run for sheriff is March 1.
Also see: "McMillin Talks on Irby Conspiracy" and Hinds Sheriff Forced to Cut Jobs