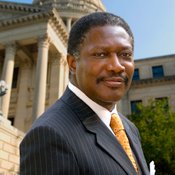 State lawmakers will have a chance to act on Gov. Haley Barbour's recent call to move a proposed state civil-rights museum to downtown Jackson. Sen. John Horhn, D-Jackson, told the Jackson Free Press Friday that he will introduce bills today to restart the planning process for a civil-rights museum, which has stalled since a Barbour-appointed commission selected Tougaloo College for its location in 2008.
Horhn plans to introduce a measure establishing a new commission to oversee the project, replacing Barbour's original panel, which Horhn described as "pretty much dissolved right now."
The deadline for introducing general bills that do not require state funds is today. Lawmakers have until Feb. 23 to vote on appropriations and revenue bills, and Horhn said that he also plans to introduce proposals for financing the project's early stages.
Earlier estimates put a museum's total cost at $50 million, including an endowment for further operating expenses. The state has already issued $500,000 in bonds for the project, and the funds remain in an account managed by the state treasurer's office. Horhn said that planning and design work would account for roughly 10 percent of the project's total cost, or $5 million.
"The question is, do you just go for that, or do you go for the whole enchilada, the whole $50 million at one time?" Horhn said. "Or do you do half or some percentage of it? That's what we've got to get worked out."
Rep. Credell Calhoun, D-Jackson, said that he expects the House of Representatives to consider issuing additional state bonds for the museum. Given the state's budget difficulties, a direct appropriation for the museum would take money from other government services and is out of the question, he said.
"The main thing is the money," Calhoun said. "We need to get some bonding money to do some of the construction. With Gov. Barbour speaking out as forcefully as he did, it looks like we might be able to get something through the Senate and the House that he would sign."
In his final State of the State address last week, Barbour put new momentum behind the museum project, which has stalled since he appointed a commission to oversee it in 2006.
"I urge you to move this museum forward as an appropriate way to do justice to the Civil Rights Movement and to stand as a monument of remembrance and reconciliation," Barbour told legislators in his Jan. 11 speech.
The commission's March 2008 selection of Tougaloo as the museum's future location drew loud outcry from proponents of a downtown location. By the summer of 2009, however, the college had made no further progress, with the economic recession putting a damper on fundraising.
In a statement issued Saturday, Tougaloo President Beverly Wade Hogan said that she had been unaware of Barbour's plans to re-launch the planning process for a downtown location. She also claimed that Barbour was supposed to appoint board members for a non-profit organization to oversee the project.
Barbour Spokesman Dan Turner did not immediately return a call for comment.
"Tougaloo College feels like the one invited to the long anticipated ball that was said to be given in her honor, only to discover there is no ball and she is without honor in a place to which she has given so much," Hogan wrote.
Horhn said that while Barbour supports his proposal for a new museum commission, he has not had a "substantive discussion" with the governor on funding or the museum's location.
"I'm not sure that the Legislature is going to be in agreement with that (site) suggestion of his," Horhn said. "We'll see."
Calhoun suggested that the House may not quibble with the governor's choice of a site, though.
"Having it downtown is the key, and where downtown--it doesn't much matter," Calhoun said.
Also see: "Tougaloo President Responds to Civil Rights Museum," "Civil Rights Museum in Trouble?" and "Civil Rights Museum a 'Done Deal.'"
Previous Comments
ID

161686

Comment

I don't see any justification for changing the rules in the middle of the game. The timing of bringing the museum out during the state of the state and the releasing of the Scott sisters and his "remembrance and reconciliation" comment is leaving a bad taste in my mouth. Whatever his agenda may be, the fact remains that in 2008, monies were spent on a commission that was appointed by Haley Barbour. This commission selected Tougaloo college and this school set aside land for this museum to be constructed. What happened? The Governor lost interest...until the other day. I don't see a need to start from scratch. It looks like that was money well spent. The downtown crowd was disappointed. Thats the way it works. It needs to be built and the dedications that were suggested in 2008 should be honored. Ground zero is, ground zero.

Author

DeGuyz

Date

2011-01-17T15:47:51-06:00
ID

161702

Comment

While the museum is a great idea, Jackson seriously needs something to bring in more entertainment and money. Museums fizzle out after a while. People barely visit the Smith Robertson museum. This is a Capital City and it's time for the City to be presented as such.

Author

A. Theodore

Date

2011-01-19T08:38:05-06:00