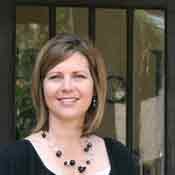 The effort to revitalize Jackson's Midtown neighborhood has a new arm. The Prosperity Center of Greater Jackson pairs traditional welfare services with counseling and wellness programs, Kristi Hendrix, executive director of Midtown Partners, told an audience at Koinonia Coffee House's Friday Forum today.
The Prosperity Center, which launched Dec. 10, supports the state Department of Human Services' welfare and food-stamp services with job training, career counseling, financial advice and legal counseling supported by the United Way of the Capital Area. The center also runs a book club that gives adult Midtown residents the opportunity to read the same books as students at the neighborhood's two schools, Brown Elementary and Rowan Middle School.
A "Midtown's Biggest Loser" weight-loss contest, supported by the center, is pitting contestants from Midtown against residents of the Georgetown neighborhood.
Midtown's is the 10th United Way Prosperity Center in the country. Monica Cannon, Midtown Partners' director of community outreach and interim director of the Prosperity Center, said that the center's programs are open to all Jackson residents but marketed especially to people around the neighborhood, which is between Millsaps College and Mill Street.
Hendrix described the center as part of the Midtown Partners' approach to serving three generations of neighborhood residents. The organization's early childhood education and afterschool initiatives support neighborhood children, while the Prosperity Center, a family resource center and Meals on Wheels serve parents and grandparents.
Midtown Partners is a relatively new organization, and the result of the merger last fall of the North Midtown Community Development Corporation and Good Samaritan Midtown. The new nonprofit is pursuing a comprehensive redevelopment of the neighborhood, which boasts 2,466 residents but suffers from blight, with 124 of its 780 housing units vacant.
Audience members at the forum appeared galvanized by the Midtown example. Dr. John Perkins, founder of the John M. Perkins Foundation for Reconciliation and Development, noted that efforts to revitalize west Jackson could emulate Midtown's tight focus.
"We're talking about west Jackson," Perkins said. "We want all of west Jackson, but we're talking too big. Let's start off with 10 blocks, but we've got to define it."
The Prosperity Center of Greater Jackson is located at 215 McTyere Avenue. Call 769-257-5757 for more information.