Wednesday, January 12, 2011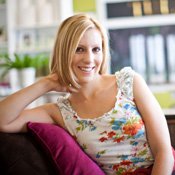 I'll admit I'm a bit of a girly girl, which means I love flowers. When I attend a wedding, they're one of the things I most look forward to—even more than the dress. Flowers bring life and color and texture to an event, and they're a great way to express a couple's personality. So choosing the right person to design the flowers for a wedding is important.
I sat down with Lesley Frascogna, 29, the stylish owner of Tulip floral studio, to learn more. Because I have never been a bride or had anything to do with planning a wedding, I was full of questions. I could easily see how choosing the right florist, one that you trust to shape the vision for your event, is key.
Growing up in Chicago, Frascogna worked events with her mother, a caterer, from the time she was 13, but florals are what caught her interest. After working in a floral shop for two years, she opened her own shop at 23. When she moved to Jackson, her husband's hometown, in 2008, she decided to specialize in events and weddings.
When Frascogna talks to a couple, the interview is really a two-way process. Because she sees flowers as her art, she needs to make sure that the couple's personality and vision fit her own, and that they appreciate her style. They're not just interviewing her; she's screening them as well. This leads to a relationship where her brides trust Frascogna to take the inspiration they give her to create personal expressions through flowers.
The process of interviewing and choosing a wedding floral designer is something to think about early on in the planning process: Wedding season is March through June, and in Jackson, florists generally book six to 12 months in advance for the season.
Frascogna has a number of tips that will help brides-to-be to work with their floral designers. First, set a budget before you talk to a florist, and be up front with it. A florist can work with you to stay within what you can afford, but only if you tell her about it on the front end.
"You wouldn't go dress shopping without a budget. You might fall in love with a $10,000 dress (with) $5,000 to spend. Flowers are no different; I don't want to prepare a proposal that you fall in love with only to find out that you can't afford it," Frascogna says. Typically, she says, 10 percent to 15 percent of a wedding budget is dedicated to flowers.
Frascogna also requires that her couples have a venue booked before meeting with them. Your flowers should work to complement your space, and the designer loves working in unusual locations. "Get away from the country-club venue!" she challenges. Her dream wedding to style would be a bride who wanted to use succulents and cactuses at a beach wedding.
This past fall, her favorite wedding took place outdoors on a hunting property. She was given freedom to design the entire event and, because the bride was a Mississippi country girl who studied fashion in New York, she went with a country-chic theme—combining deer heads and chandeliers, a ruffled backdrop of vintage fabric, and a burlap runner along with the table scapes and bouquets.
She adds that in considering budget and venue, there should be continuity between the wedding venue (e.g., a church) and the reception, and she feels that churches should really be left alone. This philosophy comes in handy for the budget-conscious; brides can concentrate on flowers at the reception and keep things minimal in the church.
Frascogna encourages brides to bring items that have inspired them: pictures of flowers or styling; images that evoke certain feelings; fabrics; graphics—it can be anything. She finds inspiration in textiles, design and fashion. These sources of inspiration make their way into floral design via ribbon treatments on stems with special fabrics, table runners, antique furniture used as a sign-in table and other unexpected elements.
Like fashion, floral design has its trends. This year, the big trend has been a homespun or vintage feel, using touches like antique furniture and glassware containers and fabrics like burlap, along with loose floral arrangements using romantic, classic flowers like garden roses and organics like cotton. Slate and yellow are popular color palates. She says that the next big movement will be modern glam, using colors like plum, teal and slate with metallics.
"There are no rules," Frascogna says. "You don't have to carry white, or even toss your bouquet. Carry red; have your bridesmaids carry potted succulents. This is your wedding!"
Tulip is located at 622 Duling Ave., Suite 213, and is open by appointment only. Call 601-572-1777 or visit http://www.ilovetulip.com.