Wednesday, January 12, 2011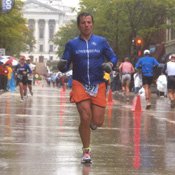 After running marathons for 30 years and competing in 13 Ironman triathlons in 10 years, for Brandon resident Darryl Lehtola, a trip to Kona, Hawaii would fulfill a dream that started in 1984: to compete in the Super Bowl of Ironman events, the Ford Ironman World Championship held every October in Kailua-Kona (or Kona for short), on the big island of Hawaii.
That year, Lehtola's uncle, George Nereo, was traveling to Hawaii, and he wanted to join him and challenge the Ironman triathlon.
"In those early years, you did not have to qualify to compete, but to do so I would have to sit out at least a semester of college, so I passed on going," Lehtola says.
Still, Lehtola can call himself an Ironman, having finished qualifying events in the allotted time.
"It is a badge of honor to finish an event," Lehtola says. "You do not wear the logo or call yourself an Ironman unless you have completed the course and earned the title."
Ironman triathlons—ultra long-distance triathlons—are the toughest, most grueling and will-breaking events any man or woman can undertake. Modern triathlons range from super sprints totaling 400 meters (a quarter-mile swim, 6.2 mile bike race and 1.5 mile run), to Olympic length (0.93 mile swim, 24.8 mile bike race and 6.2 mile run), to the ultra-long distance Ironman. Each Ironman event consists of a 2.4-mile swim, a 112-mile bike race followed by a marathon of 26.2 miles.
Races typically begin at 7 a.m., and racers have up to 17 hours to complete the entire course; the cut-off time for the swim is 2 hours 20 minutes; the bike cut off is 5:30 p.m., and all finishers must complete their marathon by midnight.
Athletes are divided by gender and then into 12 age groups starting at 18-24 and ending at 75+, and into two open "pro" divisions. At 47, Lehtola competes in the men's 45-49 age group. His best time in an Ironman event is 11 hours, 5 minutes and 7 seconds, earned in 2003 in Panama City, Fla. Not fast enough, yet, for Kona. The record for Lehtola's age group is 9 hours, 11 minutes and 56 seconds.
Training for a triathlon is just as taxing or even more taxing than the event itself. "You definitely do not wake up on Friday morning and decide to start an Ironman event," Lehtola says. "But you do need the support of family and friends to train and finish an Ironman."
Lehtola trains year round, and listening to his training schedule could make you feel tired just thinking about all the swimming, biking and running.
"Ironman training means having to sacrifice sleep or family time," Lehtola says. After his son, Zackery, was born in 1992, he remembers finding it difficult to train and still find time to spend with him.
Being an Ironman is expensive as well. Not only do you have to pay for lodging and travel, but you must ship your bike, pony up for entry fees (up to $650 for the 2011 World Championships), and provide your own food and drink on the course if you have special nutritional needs and can't use the course-provided food and drink.
The sport of ultra-long-distance marathoning began in Hawaii, where the world championships still take place. During an awards ceremony for the 1977 Oahu Perimeter Relay (a running race for five-person teams), an argument broke out over which athletes were the fittest: runners or swimmers. U.S. Navy Cmdr. John Collins suggested combining the three existing long-distance competitions held on the island: the Waikiki Roughwater Swim, the Around-Oahu Bike Race and the Honolulu Marathon.
"Whoever finishes first, we'll call him the Ironman," Collins said, and thus, a new triathlon sport was born. The first Hawaiian race, in February 1978, drew 15 competitors, and 12 finished the course.
Today, only 1,800 competitors out of more than 80,000 contenders earn a shot at a chance to compete and divide $580,000 in prize money.
For most competitors, he or she must win a spot through competing in one of the seven or eight qualifying Ironman events held each year in the United States or at one of the 17 or so other events held across the globe, including several in Europe, Asia and Australia.
"If I had gone (in 1984), it would have been two years before they started making people qualify for Kona," Lehtola says.
"It is a goal to qualify for the Ironman World Championship in Kona," Lehtola says, "but times are getting faster, and athletes are training better than before."
The world's records are amazingly short given the distance: Luc Van Lierde from Belgium holds the world record for men on the Hawaii course with a winning time of
8 hours, 4 minutes and 8 seconds set in 1996. Paula Newby-Fraser from Zimbabwe set the women's course record in 1992 with a time of 8 hours, 55 minutes and 28 seconds.
Still, Lehtola is cautiously optimistic. As the Ironman motto says: "Anything is possible."
"Swim 2.4 miles. Bike 112 miles. Run 26.2 miles," he says. "Brag for the rest of your life."