Wednesday, January 12, 2011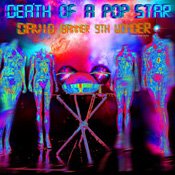 Over a perfectly sparse, yet somehow still-cinematic beat, David Banner leaves no doubt about where his mind is with his new collaboration record with producer 9th Wonder, "Death of a Pop Star." On "Diamonds on My Pinky," Banner spits: "Bang, it's the same damn thang / Boy's Clubs closing while they build P.F. Chang's / I'm from Mississippi where you let your nuts hang / And where the white folks let my ancestors do the same."
With these few lines, Banner tackles the issues of urban divestment and suburban trends and the historical legacy of the state where he grew up, all in the opening track. The rest of the album brings much of the same.
When word started to spread that this album was in the works, excitement swelled. But there were skeptics, particularly those who were worried about how 9th Wonder, an underground wunderkind producer, would mesh with David Banner, who is best known outside Mississippi for the song "Play" and his production work with T.I. on "Rubberband Man."
Many wondered if the project would work. Those skeptics, though, probably never paid much attention to the producer-turned-rapper's previous work.
9th Wonder's production ranks him as one of the best ever, among the likes of J. Dilla, Rza and DJ Premier. He has an uncanny ability to mold his production to the person he is working with, while not abandoning his core ideals and signature sound.
His work with MURS is a case study of this: 9th constructed sample-heavy beats for MURS that sounded like they were made in a basement in his hometown of Los Angeles, not North Carolina, which the producer now calls home. 9th Wonder offers the same kind of work on "Death of a Pop Star." He has replaced his reliance on sampling with the use of more live instrumentation to create a sound that, sonically, is as authentically Mississippi as the blues.
The best example of this is "The Light," with its heavy breakbeat drums and synth line that will sound at home in any club in Jackson. On this song, Banner deals with everything from religion to Obama to growing up on the streets. "Started living for money, yeah most of us did / Rappers turned to singers, preachers touching the kids / Lord, I know I ain't right / I pray everyday that I can touch my people then lead 'em to the light," he raps.
Banner's subject matter is probably the thing about "Death of a Pop Star" that will stand out to listeners unfamiliar with his less mainstream work. But Banner and Wonder don't neglect to mix in a few tracks that pay homage to the ladies and equal out the heavy lyrical content.
Of course, "Death of a Pop Star" is not entirely perfect. I do not get the fascination with Ludacris, who appears on "Be With You." There are at least four other rappers from Atlanta who would have been better for the song (Big Boi, anyone?). Further, Banner's perspective about homosexuality on "Something is Wrong" is wrong, I think.
In the end, Banner and 9th Wonder have created an album so refreshingly honest, it is hard to fault either for things that I, or any other listener, may not agree with. Hip-hop is meant to, at the very least, stimulate discussion, especially across arbitrary, socially constructed lines. As such, "Death of a Pop Star" is a classic album that is greater than the sum of its parts and a much-anticipated return to form for David Banner.