Wednesday, January 12, 2011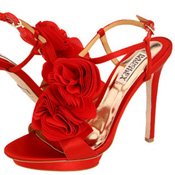 One of my personal style philosophies is "Let your shoes do the talking." When I go shoe shopping, it really doesn't matter much to me if I have anything to go with the shoe or not.
Wedding day is no different, in my opinion. Sure, it's about the dress, but every woman thinks about her dress. And then what happens? They end up running out a few days before, picking up some God-awful white satin pump that looks like a bridesmaid pump from 1988 that hasn't been dyed that curious shade of teal, yet. Your feet deserve more!
For your wedding day, take things up a notch. Spoil yourself, or do something unexpected. If you're not a stiletto kind of girl, don't choose your "I do" day to practice; go for something that says your name but has a little bedazzle on it. For others, no matter what, don't shy away from color. If your dress is a shade of white, go for a punch of color. And if your dress isn't white, honey, you're a non-traditional girl who doesn't need these tips anyway!
Don't forget your feet, guys. Be they sleek or casual (bedazzlement is up to you), do right by your feet for matrimony day. It's your wedding, too. You deserve it.