Wednesday, January 12, 2011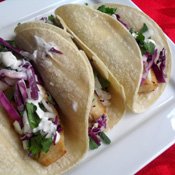 Asking me about "do-it-yourself" wedding food is about the equivalent of asking Dr. Peter Casano about how to pull off a DIY removal of nasal polyps, but I'll give it my best shot. First and foremost, if you can afford professional help, pay for it. Worrying about the temperature of the pork tenderloin should not be part of your wedding-day agenda. You should be thinking about flowers, drunken groomsmen, and your own soon-to-be awesome, married and legit nakedness. That being said, here are some tips on keeping the budget to a minimum and keeping the guests happy.
Abuse Your Friendships: Everyone has a friend who is a kitchen professional, or at least could be. This is your new best pal. Tell him or her exactly what you can spend on actual food cost, and your friend will steer you to the right dishes that can feed a crowd with the efficiency of Jesus with a basket of bread and a few fish.
Keep it Casual: Fancy food costs big money. Don't try to fool anyone with cutesy little finger food. If the guests are really and truly your friends, they already know how broke you are and might even feel guilty eating a bunch of fancy-schmancy food on your dime. Forget about salmon with dill crème anglais, and instead think sliders, mac-n-cheese, a big pot of red beans and rice, or even fish tacos.
Recruit Everyone: Have a friend that makes killer guacamole dip? Tell them how awesome it is and give them the opportunity to share their goodness with a crowd. Can your soon-to-be ex-roommate bake? Bingo! Wedding cupcakes (a real wedding cake is so out of your budget).
Match the Food to the Atmosphere: If your reception is going to be a potluck affair, don't make the ceremony too formal. Make everything fit your personality. Unless you are the tragically stuffy (and recently broke) niece or nephew of Bernie Madoff, don't try for a Di and Charles-style wedding. Just get yourself and your "intended" in front of someone with the authority to hitch you, mix in some friends, some music (provided for free by your friends in a band), some great food and a keg, and you're all set.
Use Paper Goods: You can buy about 500 of the little red-and-white paper food boats for $25. They are cheap, they hold food, and they look way cooler than paper plates. The real name of these things is three-pound food trays. Use them, plus Dixie cups and paper napkins. You won't be offending her majesty the queen, because you won't be serving her. She isn't coming. Stop sending her the invitations; you're just wasting money on postage and paper that could be going to buy a little more food.
Getting the idea? Now let's move on to specifics. Assemble the team and get to work.
Rice and beans are cheap. Plus, this is the South, and people just love a good pot of red beans and rice. Some type of pork is always on sale. Buy a wagon load of picnic shoulder or Boston butt and slow roast it. When it's all done, pull it and slather it in a homemade barbecue sauce and serve with white bread.
Noodles are so cheap that I think they pay you to take them out of the store. Buy big bags of generic elbow macaroni and loads of store brand cheese. Tacos are cheap, too. Make an Asian cabbage slaw and pair with grilled catfish (really inexpensive), and there you have it: full-on casual wedding food.
Just don't forget the cupcakes; it's so cute when the bride and groom feed each other wedding cake. I can't imagine how much cuter that would be if said cake is in cup form.
Baja-Asian Fish Tacos
20 catfish fillets
120 corn tortillas
5 heads green cabbage
5 heads purple cabbage
5 bunches cilantro
8 limes
20 medium Roma tomatoes
8 Serrano peppers
8 jalapeño peppers
5 cups mayonnaise
8 tablespoons toasted sesame oil
8 tablespoons soy sauce
8 teaspoons minced ginger
6 tablespoons olive oil
Mexican spice rub
Rinse catfish fillets in cold running water and pat dry with a paper towel. Rub fish generously with Mexican spice rub, coating both sides.
Chop cabbage into long, thin slivers. Dice tomatoes. Finely chop cilantro. Finely chop peppers.
Warm the tortillas in a 350-degree oven for 15 minutes and reduce heat to 200 to hold while preparing the rest of the dish.
Combine all but one tablespoon of the cilantro, mayonnaise, peppers, sesame oil, soy sauce, ginger and the juice of one lime. Whisk well to combine all ingredients. Add cabbage and toss until cabbage is fully coated by the wet ingredients. Place the mixture in a colander inside a large mixing bowl to drain.
Toss the diced tomatoes in the juice from half a lime and the reserved one tablespoon of cilantro.
Rub the catfish with olive oil and grill over a medium flame until flaky and firm. Place the cooked fish in a mixing bowl and break up with a fork. Add the juice from half a lime.
Remove the warm tortillas from the oven and fill with catfish and cabbage slaw, top with tomatoes.
Serves 60.