Wednesday, January 12, 2011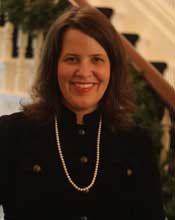 Mayor Harvey Johnson Jr.'s vision for the capital city is what keeps Beth Hamilton in Jackson. "I am 100 percent in love with this city, even though I have only been a Jacksonian for about two years," she says.
As Johnson's policy coordinator, the New Albany, Miss., native spends the majority of her time on three responsibilities: overseeing the city's legislative agenda, Jobs for Jacksonians and the Community Garden Initiative.
Hamilton, 32, is frequently at the state Capitol meeting with legislators about bills that affect the city of Jackson, now that the state Legislature is back in session.
Currently, Hamilton is lobbying legislators to pass a bill to remove a state commission that has approval authority over how the city spends a proposed sales-tax hike on safety and infrastructure repairs.
"We can get a lot accomplished if we can get this passed," Hamilton says. "It would bring in $200 million to the city (per year)."
When she talks about her involvement with the Mayor's Community Garden Initiative, Hamilton's passion is amplified. "In one of my first conversations with Mayor Johnson, he was describing all of his visions for the city," Hamilton says. "I was listening, and when he mentioned the community gardens, it just really interested me, even though I have never really been a gardener. Something about the idea just turned me on to it."
The initiative consists of community and city leaders planting seven community gardens throughout the city, one in each ward. On most Thursdays and Saturdays you will find Hamilton working in one of the three community gardens that have been already been planted (wards 3, 4 and 7).
Last month, children involved in the program sold produce from the gardens at the Mississippi Farmer's Market.
"[T]he gardens are open to anyone, but it is preferred for people to put in sweat equity and enjoy the fruits of their labor," she says. Those "fruits" include tomatoes, squash, peppers, watermelon, cantaloupe, all types of greens, cabbage and broccoli.
The city's Jobs for Jacksonians Initiative targets low-income citizens to help them find employment opportunities.
"It is a partnership between the city and the WIN Job Center that specifically meets the needs of these Jacksonians who are in the job market," she says.
Hamilton volunteers to help raise funds for Alzheimer's research. She is the chairwoman of "Blondes vs. Brunettes," a powder-puff football game in which women of opposing hair colors will battle each other to raise money for the National Alzheimer's Foundation.
The game is at Millsaps College, May 14, and she encourages anyone interested in participating to attend the Jan. 20 kick-off event at 6 p.m. at the Viking Cooking School in Ridgeland. For more information, visit bvbms.com.