Wednesday, January 12, 2011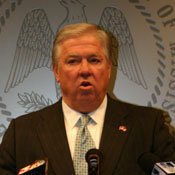 In his final State of the State address yesterday, Gov. Haley Barbour offered optimism about Mississippi's economic recovery, as well as criticism of President Barack Obama and the federal government. Citing a string of new manufacturing projects in the state, Barbour said the state is "well prepared to make a major leap forward."
Barbour recounted the budget crisis that he faced at the beginning of his first term and noted that he addressed it "without raising anybody's taxes."
In a September 2010 assessment of the country's governors, the libertarian Cato Institute suggested that Barbour was not a small-government conservative, giving him a "C" on its "Fiscal Policy Report Card."
The report noted that Barbour has approved two tax increases during his tenure: a 2008 tax increase on hospitals to fund a Medicaid shortfall and a 2009 tax hike on cigarettes. The report also noted that state general-fund spending increased 43 percent between the 2004 and 2008 fiscal years. That span coincided with a surge in state sales-tax revenues following Hurricane Katrina, however.
"Governor Barbour has a conservative reputation, but his tax and spending record over seven years as governor has not been very conservative," study author Chris Edwards wrote.
Barbour urged legislators not to raise taxes in the upcoming fiscal year.
"Just as our constituents have cut back, they expect state government to cut back," Barbour said. "The people of Mississippi deserve to keep more of what they earn, and we owe it to the people of Mississippi not to raise taxes and to control spending."
Ed Sivak, director of the Mississippi Economic Policy Center, disagrees. The state needs a "balanced" approach to its budget crisis, one that raises new revenue and makes cuts to spending.
"People like to point out or argue that during down times, businesses cut costs, and so the state should do the same," Sivak told the Jackson Free Press Dec. 16. "The reason businesses cut costs is that demand for their products is falling. When you look at the state, when times are tough, demand for their services actually increases."
MEPC proposes a number of tax reforms, including adding sales taxes to services like tanning and pet grooming, which could add tens of millions to the state budget.
Nevertheless, the state Legislature appears to agree with the governor's anti-tax stance. Delivering the Democratic response to Barbour's address, state Reps. Tyrone Ellis, D-Starkville, and Cecil Brown, D-Jackson, vowed to oppose tax increases.
"We will not raise taxes," Brown wrote in a statement yesterday. "We will not even consider a tax increase. Raising taxes is a bad idea; raising taxes in the middle of a deep recession would be a disaster."
Barbour repeated a familiar misrepresentation about school funding, stating "our school districts have more than $450 million in their reserve funds."
While the state's school districts maintain reserves of local property-tax revenue, those funds serve as temporary cash-flow reserves, not as long-term savings. Schools receive their state funds on a regular, monthly basis, but local funds arrive more fitfully, with most money coming between February and April, when most people pay their property taxes.
State Auditor Stacey Pickering outlined the pattern in a 2008 report titled "The Myth of School Rainy Day Funds."
Barbour attacked President Barack Obama for his signature health-care reform law and energy policies, which, Barbour said, hurt the economy.
"More obvious every day, the Obama administration's energy policies are driving up the cost of energy," Barbour said. "Gasoline costs more than three dollars a gallon because the administration's energy policy can be stated in one sentence: Increase the cost of energy so people will use less of it."
Barbour cited Obama's proposed cap-and-trade policies for pricing carbon emissions; however, various forms of cap-and-trade have all stalled in Congress.
Barbour was noticeably silent on the oil spill that paralyzed the Gulf Coast's economy last year, alluding to it only to criticize Obama for temporarily shutting down oil production in the region with a moratorium on deepwater drilling.
"Well, we don't need higher fuel prices in Mississippi; but other than litigation and encouraging our Congressional delegation, we can't change federal energy policy, even when it closes down oil and gas production in the Gulf and costs thousands of jobs in the Gulf states," Barbour said.
Read an in-depth analysis of Barbour's speech in next week's Jackson Free Press.
Previous Comments
ID

161578

Comment

Gee, Barbour, where were you two years when gas was $4 and $5? Let me guess, Bush was in office so you can't speak ill of a fellow Republican.

Author

golden eagle

Date

2011-01-12T14:11:56-06:00