Tuesday, January 11, 2011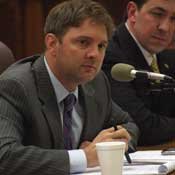 The Mississippi Immigrants Rights Alliance will meet with lawmakers at the state Capitol tomorrow at 8:30 a.m. to discuss a proposed bill similar to a controversial Arizona law that a federal judge has blocked.
Sen. Joey Fillingane, R-Sumrall, said the Senate Judiciary A Committee could debate his Support Our Law Enforcement and Safe Neighborhoods Act as early as Thursday. MIRA has requested that its members speak with senators and House members before they debate the bill, which forces state and local law enforcement to engage in immigration enforcement--powers normally reserved for the federal government.
MIRA Executive Director Bill Chandler said he wants MIRA members to shake hands with legislators and share their reasons for opposing the bill. The organization will hold a press conference at the Capitol regarding the legislation at noon. He invited the public to attend the meetings.
Also see: "Public Safety Head: Anti-Immigration Bill Too Costly".
Previous Comments
ID

161544

Comment

MIRA just sent an updated press release with details. Read below: Join us at 9:00 AM at the MIRA Office. Then we'll walk to the Capitol to meet with Senators prior to this important vote. WHEN: Wed Jan 12 9:00 am gather at MIRA-then go straight to the Capitol to meet with Senators 9:30-12:00 noon orientation/ lunch at MIRA-then go to Capitol to meet with Representatives 12 NOON Press Conference 1 PM Meet with Representatives WHERE: MIRA Office 612 North State Street [near High Street and just one block from the Capitol] Jackson, Mississippi 39202

Author

Lacey McLaughlin

Date

2011-01-11T18:04:05-06:00