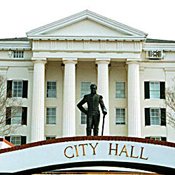 Last night's winter storm that brought freezing rain and sleet to central Mississippi has caused several closings and delays this morning.
The city of Jackson offices are closed until noon with the exception of the public works department. Jackson Public Schools, Hinds County Public Schools and all Hinds Community College Campuses are closed today. All state offices are also closed today.
If you are have a scheduled meeting or appointment, call ahead to find out if the meeting is still being held.
Winter weather advisories are canceled for Hinds, Madison and Rankin counties; however ice still hampers several roads and bridges. For more traffic information, visit mstraffic.com.