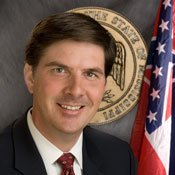 State Auditor Stacey Pickering announced today that he will run for re-election in 2011. Pickering, who won the auditor's post in 2007, succeeding Lt. Gov. Phil Bryant, was among a handful of politicians considered potential candidates for lieutenant governor.
At a press conference this afternoon, Pickering said that he hoped to use a second term to increase the number of performance audits his office produces. Last year, his office produced a performance audit for the state Legislature, identifying more than $90 million worth of savings in advertising, printing and other expenses.
"I don't think there can be any sacred cows when it comes to the managing the taxpayers' money," Pickering said.
Before running for auditor, Pickering served one term as a state senator for Jones County. He also worked in the private sector for Howard Technology Solutions, a division of Laurel-based manufacturer Howard Industries.
Pickering grew up in Hebron and attended Jones County Junior College, Samford University and New Orleans Baptist Theological Seminary. He lives in Laurel with his wife, Whitney, and four children.
Early speculation had counted Pickering among the Republican contenders for lieutenant governor in 2011, but both state Sen. Billy Hewes, R-Gulfport, and Treasurer Tate Reeves have announced their candidacy for the state's number-two spot.
In 2008, Pickering clashed with Attorney General Jim Hood over attorneys' fees in the state's 2005 $110 million settlement with MCI, formerly WorldCom, over unpaid taxes. Pickering argued that the telecommunications giant bypassed state law by paying $14 million directly to the law firm of now-disbarred attorney Joey Langston, instead of allowing the state to pay Langston from its share of the settlement. In February, Hinds County Circuit Judge Winston Kidd rejected Pickering's argument, upholding Langston's fees.