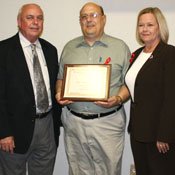 Victims of the New Year's Eve tornadoes that hit Mississippi last week can find some relief knowing that American Red Cross volunteer Lampton Harry is on the scene.
Harry, 58, started volunteering with the Red Cross about 10 years ago, and serves as lead logistics officer where he oversees communication, assesses storm fire and damage, and ensures that disaster victims have their basic needs met.
The Columbia, Miss., native works full-time at the Mississippi Department of Rehabilitation Services, but state law allows him to take up to 160 hours of time off to respond to state emergency disasters. On Dec. 31, New Year's Eve, he was on call when 10 tornados hit Mississippi, leaving extensive damage in Byram and Pearl.
Harry has served during some of the worst state disasters. When Hurricane Katrina hit the Gulf Coast in 2005, he oversaw incoming supplies and operations of the Mississippi Coliseum, which served as an evacuation shelter.
"I learned from that experience that you can't be prepared enough," he says. "That was an unusual experience because we had an evacuation from the Mississippi Gulf Coast, as well as an evacuation from the City of New Orleans. Usually, in most hurricanes, we aren't evacuating the entire Gulf Coast and the entire city of New Orleans."
When daylight broke Jan. 1, Harry and a team of volunteers headed to Pearl where they found telephone wires covering the ground, fallen trees blocking streets and damaged homes. He escorted an elderly woman out of her home and helped her received proper care. Harry also assessed storm damage and provided breakfast to victims.
"We were not able to (drive) into all the areas because of telephone poles and trees, so we had to walk through the area to hand out breakfast," he says.
Harry moved to Jackson after graduating from Ole Miss in 1975 where he earned his bachelor's degree in business.
The American Red Cross in Jackson is currently seeking caseworkers to assess the needs of families in the tornadoes' aftermath. The organization also needs financial donations to provide victims with food, shelter and clothing. For more information about volunteer training or to donate, visit the Red Cross website.