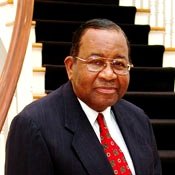 Jackson City Council President Frank Bluntson briefly accused the media for hyping allegations that he misused city employees to help his daughter-in-law's campaign during a community forum this morning.
"Ya'll create the problem," Bluntson said, responding to one reporter's question about Ward 2 Councilman Chokwe Lumumba's unresolved allegations from November. "Nobody in this city can make anybody do anything. And that's what I'm talking about. [You're saying] Frank Bluntson made two people go out and help his daughter in a campaign in Madison County. You know, I can't make my wife do anything. How are you going to make somebody else go and do something?"
Lumumba proposed an order investigating two employees of the city clerk's office who took time off to help Barbara Ann Bluntson in her failed Nov. 2 bid for Madison County Justice Court judge. At the time Lumumba said that Bluntson needed to clear up inconsistencies between his claims and a letter the city assistant clerk sent to the administration confirming that the two employees took off Nov. 2.

Lumumba said that Bluntson initially denied that the clerks volunteered for the campaign., but later changed his story to say that clerks volunteered, but had used vacation time. Lumumba pulled a vote to investigate Bluntson at the Nov. 30 and Dec. 14 council meeting saying too many council members were absent to properly discuss the issue. The item is not currently listed on the council's Jan. 11 meeting agenda.
Bluntson said this morning that Lumumba couldn't get enough support to move the investigation forward.
"People have a right to take days off and go and help people on a campaign. That's been going on since we've been working in campaigns. And now you've got headlines saying this and that and all that kind of stuff," he told the audience at Koininia Coffee House.
Bluntson added that he did not want to promote a combative forum in the council. "People say when black folks get in charge, they act like fools all the time," he said. "All we do is argue, and we can't do anything. I'm not going to be a part of that."
Lumumba could not immediately be reached for comment.
Bluntson also spent time asking city residents to spend their money inside the city of Jackson, and to avoid popular shopping areas in Rankin and Madison County.
"When you go to Northpark [Mall] to buy your clothes, we don't get a penny of that," he said. "We don't see a penny in sales tax when you buy things from that (shopping center) out in Rankin. If there's a place in town that sells what you need, you need to shop there. There isn't anything out of town that you can't get here."