Thursday, January 6, 2011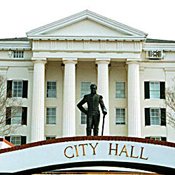 On Tuesday, Jackson City Council members scheduled a special election for Feb. 15 to fill the Ward 1 council seat. The deadline for candidates to qualify for the Ward 1 special election is Jan. 26. Former councilman Jeff Weill who resigned from his Ward 1 position to serve as Hinds County Circuit judge this month and is replacing judge Swan Yerger who retired this year.
While Jackson City Clerk Brenda Pree said this morning that no candidates have submitted the proper paper work, yet, Ward 1 residents Marcus Ward and Quentin Whitwell have already announced their candidacy. Whitwell, 38, is a managing partner with media and political advising company Meadowbrook Strategies. Ward, 33, served as chief of staff and director of intergovernmental relations under former Mayor Frank Melton.
Whitwell said he planned on picking up the paperwork from the city today and officially filing early next week. To qualify, candidates must have 50 signatures from Ward 1 residents, be at least 18 years of age and live in Ward 1. The city's election commission will verify addresses and approve the candidates shortly after the Jan. 26 deadline, Pree said.
Whitwell, who appears on a doubled-sided campaign billboard on Northside Drive, said he is planning on reaching as many potential voters as he can in the next few weeks.
"From here on out we anticipate getting serious about a grass-roots effort," he said. "We will go door-to-door this weekend, and try to meet as many people as possible."
Ward said he planned on meeting with his campaign supporters this weekend and mapping out his campaign strategy.
To cast a vote in the special elections, voters must register by Jan. 17. To register, go to the city clerk's office (219 S. President St.). The office is open 8 a.m. to 5 p.m. Monday through Friday, with extended hours for voter registration from 8 a.m. to noon Jan. 15.
Read the JFP interviews with Marcus Ward and
Quentin Whitwell. For Whitwell campaign updates, follow him on Twitter at Quentin_W or visit his website. Ward said his website is still in the design phase, but will be up shortly.