Wednesday, January 5, 2011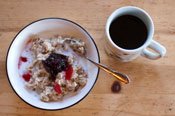 I have never been one for modern medicine. I do not enjoy doctor visits or prescription medication. When I get a cold, I eat chicken soup. When I have a cough, a tablespoon of honey cures it every time. When I burn myself, I always turn to my aloe vera plant.
When I started feeling a little rundown recently, I turned to holistic medicine to find a cure. After much research, all signs started pointing to omega-3 fatty acids, usually found in high concentrations in salmon and walnuts. However, the one source with the highest concentration of all is flax seed.
Best when eaten in milled (or ground) form, flax seed has the most naturally occurring saturation of various vitamins and minerals, and it's abundant in fiber. Two tablespoons of milled flax seed has an average 2,600 milligrams of omega-3 fatty acids per serving.
What does this mean to you? Potential health benefits include decreasing your risk for cancer, diabetes and heart disease, all while combating inflammation from arthritis and even easing hot flashes in menopausal women, where noticeable differences occur within just a few days of beginning a flaxseed regimen.
Milled flax can be found at most major retailers (usually sitting modestly next to other milled flours) and is a staple at any health-food store. Working it into everyday meals is easy; it blends fantastically into smoothies and mixes effortlessly into cereals. If breakfast isn't your thing, try it in bread or treat someone special to a salad topped with flaxseed-oil vinaigrette.
Powerhouse Breakfast
1/2 cup "old fashioned" oats
1 cup water
2 tablespoons milled flaxseed
1 tablespoon organic butter
2 tablespoons brown or raw sugar
1/4 cup whole or almond milk
Maple syrup
Boil the water in a small saucepan over medium heat. Add oats. Boil for five minutes or until most of the water is absorbed and the liquid is thickened.
While oats are boiling, combine the flaxseed, butter and brown sugar in a bowl.
Pour the cooked oats into the bowl and stir until mixed.
Drizzle with maple syrup and milk.
Serve with coffee or juice and fruit.