Wednesday, January 5, 2011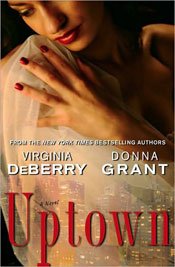 Before I read "Uptown" by Virginia DeBerry and Donna Grant (Touchstone, 2010, $14.99), I assumed the book would be about the dramas that normally unfold in big cities and corporate America. I guessed an office affair gone wrong or perhaps a grand scheme gone sour. Fortunately, "Uptown" wasn't that predictable. DeBerry and Grant offer a fresh story that teaches lessons about greed, the importance of family and forgiveness.
"Uptown" is the story of a family painfully divided by troubling past events, power and money.
Avery Braithwaite has little time for family or friends. She seems to enjoy her self-imposed exile from her family, but her distance from everything and everyone she grew up with has instilled a distance in her personality that makes it hard for anyone to discover who she really is. After being away from Harlem for more than 20 years, Avery is forced to revisit her hometown due to a terrible tragedy. But once her plane lands, Avery's life is changed forever.
As soon as she returns to New York City, she discovers that coming home is a process more than a simple task. Avery struggles to re-adjust to the life that she abandoned years ago. Her cousin, budding real-estate entrepreneur Dwight Dixon, won't get off her back about selling a property that "needs" to be sold and requires Avery's permission to do so. Dwight is the reason why Avery fled her home, vowing to never return. Their impromptu reunion surfaces years of anguish and unsettled issues from the past.
DeBerry and Grant exquisitely guide you through the lives of Avery and Dwight and skillfully allow you to enter their minds to understand the emotions and feelings behind their actions. The plot twists and turns, but you can always understand why the characters act and feel the way they do. The authors keep interest levels piqued, as the plot progresses to its climax. You will become consumed with the characters due to the extensive level of detail; they'll actually seem to become real.
Reading "Uptown" will help you understand your relationship with that unique place each of us calls "home," making this book an experience—not just a novel.