Wednesday, January 5, 2011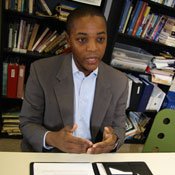 At 33, Marcus Ward is already a veteran of Jackson city politics. From 2005 to 2009, he served as chief of staff and director of intergovernmental relations under former Mayor Frank Melton. Now he is considering a run for the Ward 1 City Council seat, which Jeff Weill is vacating to become a Hinds County Circuit judge.
The West Point native earned a bachelor's from Alcorn State University and a master's in public administration from Syracuse University. He is currently Alcorn's associate vice president for development and alumni relations.
Ward has an easy command of statistics from the Melton administration: grant dollars received, policies rewritten, miles of road repaved. Jackson needs his experience, he argues, to keep moving forward.
You just got out of the city. Why would you come back and run for Council?
I believe in Jackson. I think I am the most qualified, experienced and dedicated person to do this job for northeast Jackson. ... It's two things. Crime and infrastructure.
Crime and infrastructure--are those the needs of Ward 1 specifically? Does that ward have different needs from the rest of the city?
The difference between Ward 1 and the rest of Jackson is that Ward 1 contributes a good percentage of the tax base to the city. That's not to discount other areas of the city, ... but there's no question that there is a preponderance of wealth in northeast Jackson.
When you look at the crime issue, it touches every family in the city. ... My sister was coming to my house one morning, and three guys got out and robbed her at gunpoint. In order to get businesses back to Jackson, in order to improve the infrastructure, in order to create a better quality of life ... we've got to focus on those basic, fundamental things.
What specific things could the city be doing to address crime?

Chief Coleman is doing an excellent job as police chief, and the mayor is leading the city in the right direction on the crime issue. I think one of the things they're proposing is a new fifth precinct. ... I think we do need smaller precincts so that beat officers can ... get out and walk and talk with the folks on the street that they're serving.
How do you think the city should address its budget issues?
Austerity. The mayor took a very good, common-sense approach to the austerity issue by first cutting the budget 12 percent. I think there's a lot of areas where we can make this city a whole lot leaner and really cut some things down to the bone. ... We need some serious-minded folks that are going to ... know where the, quote-unquote, "dead bodies are buried," to fix some of that fraud, waste (or) abuse that may be taking place in government.
What about specific places that need to get cut or scrutinized?
Vehicle inventory--the city has thousands of vehicles. Jackson is a city that, when you look at where we were in 1990 compared to where we are in 2010, we've definitely lost a lot of residents. We're still operating as if we're that city of 215,000 people. We've got to right-size ourselves to where we are now.
What was your working relationship with the council during the Melton administration?
I think, all in all, it was a fairly good relationship. ... They were concerned when I first got there that I couldn't do the job. But I think we brought the money home--as they say, "brought home the bacon"--and there's proof in records down at the city.
Weill has had an opposition and watchdog role for much of his time on Council. How do you envision your role with that body?
With the experience I bring to the table, I think it changes the dynamic of council relations. ... I think it brings more comity to the council--brings collegiality to the council. When a vote comes up on a tax issue, it won't be, "We don't have to work with him, because we know how he's going to vote on that." It'll be, "We need to make sure we've got him involved, because he may have someone else we've traditionally counted on on his side."
What are the first things the council needs to tackle in the new year?
We need to look at regionalization of JATRAN. Everybody shoots me down when I talk about this, but it's a real issue. We can't afford the JATRAN system we have now. We've lost population and tax base. ... When you've got a contract that requires you to pay drivers $1.5 million in back pay in addition to what they're supposed to get going forward, how can you get that with the ridership we have?
I think we need to go to the state Legislature and come up with a bill that regionalizes the system. We need to first go to our neighboring communities to make sure we have a system that's vibrant and serving their people well. There are people in Madison that want to come to downtown Jackson for things. There are some that don't want to drive. There are some that can't afford to drive.
Previous Comments
ID

161470

Comment

Hey Ward, don't try to act like crime's not an issue in Ward 1. Your retort to Marcus' assertion about C&I came off as smart ass and an implication that because it's majority white, it somehow doesn't value the same things as the rest of the city. Infrastructure and safety in your home are things that everyone values and deserves to be provided at a high level by their local government. Obviously Jackson has been lacking in both categories and there are numerous examples that back me up. "House burglaries in Precinct 4, which encompasses northeast Jackson, have gone up more than 28 percent, the highest increase in the city, according to Jackson police statistics." - Actually published today. The above quote is a sure fire way to lose more of the tax base that pays for the majority of Jackson's services.

Author

RobbieR

Date

2011-01-06T08:42:54-06:00
ID

161471

Comment

Robbie, we don't need you or anyone scolding our reporters like they're children. When you look at and listen to Ward's answer, that was the perfect follow-up question. There is nothing "smart ass" about it. We ask our reporters to listen to what people say and ask questions based on them; sometimes they are devil's advocacy; sometimes they're not. That's how you do rich interviews. On the other hand, at yell old Clarion-Ledger, they e-mail lists of questions to their Q&A subjects (those they run on Sundays if they still do), which means there is no intelligent follow-up questions, and the people can get their PR folks to answer them. At the JFP, it is against our ethics policies to e-mail questions to anyone, or do e-mail interviews. We will turn down interviews with important people before we send them questions. As for crime being an issue in Ward 1: It's an issue everywhere. Why wouldn't it be? Do you think readers are stupid enough to think that anyone thinks that crime doesn't matter just because we don't think it's the only thing media should ever talk about? Come on: You HAVE to be smarter than that.

Author

DonnaLadd

Date

2011-01-06T10:06:32-06:00
ID

161472

Comment

It wasn't scolding at all, but I appreciate the condescending attitude from you. That seems fair. I don't care what the CL does, so why bring it up in this conversation? Is that your benchmark for you and your staff? It seems to be the argument, "we did X, but CL did Y! and that somehow justifies X." I disagree with that notion. I admit I pulled a stat from one of their articles, but I hope you don't think I was comparing or contrasting the JFP's political coverage to the CL's. You HAVE to be smarter than that. Marcus said the the two things that brought him to run were C&I. The follow up question is loaded with innuendo and sarcasm. It almost comes across as contempt for the ward (no pun intended). That being said, Marcus seems like a real sharp guy, and I look forward to he and Quentin sharing their ideas with the community as we lead up to the election.

Author

RobbieR

Date

2011-01-06T10:28:37-06:00
ID

161474

Comment

It wasn't scolding at all, but I appreciate the condescending attitude from you. That seems fair. It does, doesn't it? You attack the messenger in a juvenile way; I return it. Do it again; I don't open your comment, and we get on with conversation about issues. I don't care what the CL does, so why bring it up in this conversation? Is that your benchmark for you and your staff? It seems to be the argument, "we did X, but CL did Y! and that somehow justifies X." I disagree with that notion. Come on. Think harder. In your comment above, you are asking us to take what Ward says at face value with no kind of thoughtful follow-up question based on his actual comment. Then you get all bent because I point out that we don't do this kind of interview like other media around here? Now, you can't handle it because I draw a comparison? Really? This is what you think is intelligent commentary? I admit I pulled a stat from one of their articles, but I hope you don't think I was comparing or contrasting the JFP's political coverage to the CL's. You HAVE to be smarter than that. I am. Even though it went over your head, I was drawing a comparison with the kind of interview you seemed to hankering over to show why/how we do things differently from other media that so so-called political interviews. We actually sit in front of people, listen and then follow up on their answer. Novel, eh? Marcus said the the two things that brought him to run were C&I. The follow up question is loaded with innuendo and sarcasm. It almost comes across as contempt for the ward (no pun intended). With due respect, you are sounding really foolish here. You must really prefer third-grade journalism. Lord. Can someone really be THIS sensitive? Robbie, talk about the issues themselves, and stop looking to be mad at the messenger. Seriously, no one cares. I trust that your next comment on the site will have some substance.

Author

DonnaLadd

Date

2011-01-06T10:38:32-06:00
ID

161482

Comment

Hey Robbie, I appreciate your impassioned response, but I can assure you that I wasn't insinuating that Ward 1 residents don't worry about crime. What I was trying to get at is priorities: residents of Ward 1 could easily have different priorities from residents of another ward. Or, at least Marcus Ward could think so. In any case, there was no sarcasm or smart-assery intended, and I don't think it reads that way either.

Author

Ward Schaefer

Date

2011-01-06T13:41:56-06:00
ID

161484

Comment

I don't know what Robbie's talking about. It was a mildly challenging question, asking Marcus Ward to connect a very general statement about crime and infrastructure to the needs of his ward. I don't see how it was a "smart ass" question.

Author

Brian C Johnson

Date

2011-01-06T14:50:35-06:00
ID

161485

Comment

I know, Brian. When I saw his comment, I thought I was going to see one of our truly snarky comments! ;-)

Author

DonnaLadd

Date

2011-01-06T14:55:51-06:00