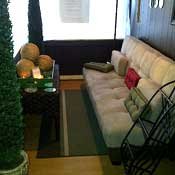 A California solar panel company plans to build a new production facility in Hattiesburg, Gov. Haley Barbour announced today. The company, Stion, produces high-efficiency thin-film solar panels at its headquarters in San Diego. Barbour called on the Mississippi Legislature, which convenes today, to pass a $75 million loan, along with other tax and workforce-training incentives, to facilitate the project.
In a press release, the company said that its Mississippi production plant would create more than 1,000 jobs over six years. The project's first phase would represent a $100 million investment and directly create 200 jobs in the next two years.
In a statement, Barbour called the news "further proof that Mississippi is an ideal location for clean energy companies to locate and expand."
Among Stion's backers is Khosla Ventures, the venture-capital firm of Sun Microsystems co-founder Vinod Khosla. In August, Barbour announced that another Khosla-backed company, Houston-based KiOR, had plans to locate three production facilities in Mississippi to convert wood chips into a crude-oil substitute. Legislators approved a $45 million bond issue to support a state loan to KiOR. The project has stalled though, as KiOR can only access the loan money after securing an agreement from a major oil refinery to process its synthetic crude oil.
Steam Room Grille Reappears Downtown
Devotees of the recently closed Steam Room Grille have cause for celebration: The restaurant's former general manager, Aubrey Norman, is opening a new restaurant downtown. Norman's new venture, dubbed the Steam Room Grille Downtown Cafe, will serve breakfast and lunch for the downtown working crowd.
The Downtown Cafe will emphasize convenience, with ready-made lunch specials. The homemade biscuits will be made according to a recipe handed down by Norman's great-grandmother. Norman enlisted local interior designer J. Bolin to design the restaurant's wi-fi lounge and photography display by Will Sterling.
The Steam Room Grille closed June 5, and Norman looked at several locations around the city before settling on downtown. Norman said that he expects to open as soon as Jan. 10 in the Capitol Street location Taste Lounge formerly occupied.
The Steam Room Grille Downtown Cafe is located at 105 E. Capitol St. Hours of operation will be Monday through Friday, from 6:30 a.m. to 2 p.m. Call 769-251-1681 for more information.
Merchants Foodservice Tops in Sales Growth
Food distributor Merchants Foodservice, which has a distribution facility in Jackson, posted the largest growth in sales of the nation's top food distributors, according to statistics from Institutional Distribution Magazine. The Hattiesburg-based company is expanding its Jackson distribution center, located at 870 Boling St., by 32,000-square feet.
"The new addition to our Jackson facility significantly increases our inventory capacity and allows us to better serve our current customers as well as giving us the opportunity to grow as our customers grow" Hal Hiatt, general manager of Merchants Foodservice Jackson, said in a statement.
Previous Comments
ID

161421

Comment

Steam Room's back? Cool...

Author

2599

Date

2011-01-04T13:51:54-06:00
ID

161433

Comment

I guess it's good news about the solar panel plant. Too bad we don't have any legislation or laws here encouraging citizens to use what's going to be built here. There needs to be tax breaks and incentives for buying solar panels and power companies need to be made to provide net billing options for those that do use solar panels and feed free electricity back into Entergy's grid, which they turn around and sell to my neighbor.

Author

LambdaRisen

Date

2011-01-04T16:36:16-06:00
ID

161434

Comment

http://www.daylife.com/photo/04pbbKo7nWfhF?q=Zoe+Lofgren Bipartisan jobs jubilee for Mississippi (Barbour) and California (Boxer)?

Author

ScoutandBoo

Date

2011-01-04T16:37:06-06:00