Wednesday, February 16, 2011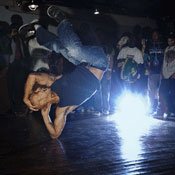 Before stepping foot inside the North Midtown Arts Center on Millsaps Avenue, it was obvious that something was going on. More than the cars parked along the sides of the street gave it away. The energy was palpable; the music was loud; and the building's usually dim lights were bright this Jan. 15 night. Reminiscent of a scene straight out of "Step Up," dancers and onloookers stood on the floor and risers. Dressed in bright colors and fly sneakers, hipsters had invaded the center for Jackson's Phaze One Dance Crew's first "Rip the Cypher," a monthly hip-hop dance jam.
Dancers from all over the southeast joined Phaze One to showcase not only the three core styles of dancing—krumping, break-dancing, and pop and locking—but also regional styles and dances like the Memphis buck.
Phillip Rollins, aka DJ Young Venom, 26, is Phaze One's official DJ and provides a constant soundtrack for the dancers, deftly keeping the break beats going, altering his song selection, when necessary, to accommodate the different styles of dance. He is also one of the event organizers.
In 2007, Rollins organized and hosted a "Rep Your City" party at the now-defunct Seven*Studioz on Millsaps Avenue. Two "'80s Babies" parties followed, and all three parties featured some of the best dance talent from around the region.
"After these parties, we shut it down for a bit," Rollins says. "We were off doing our own things."
But in December 2010, Phaze One received a challenge from a rival Jackson dance crew, O.V.T. It was on. The crew asked Rollins to deejay the battle, and Phaze One defeated the challengers. The win gave pride and bragging rights to Phaze One. More importantly, it reinvigorated the local dance scene.
"After that battle, we all talked and decided to do a monthly dance jam, and 'Rip the Cypher' was born," the DJ says.
While "Rip the Cypher" is a gathering place for dancers from all around, the jam's host, Phaze One, is the centerpiece and foundation upon which the Jackson dance scene has been built for years. Venom says Phaze One core members—B-Boy Tony Touch, Topz, Prophecy, Baby J and Jag-War—are "students of dancing." The crew has hosted dance classes and plans to provide opportunities for other dancers to exchange ideas and styles before dance jams. They take this dance thing seriously, Venom explains.
As one of the four core elements of hip-hop (along with emceeing, deejaying and graffiti), the dance scene in Jackson is an important part of the overall hip-hop landscape in the city. "There are a lot more dancers in Jackson than people realize. It is a very strong dance community," Venom says. December's "Rip the Cypher" proved that.
Aside from the dancing, December's event featured a performance from local rapper Zeedubb, and Rollins plans to include other local artists in upcoming jams. Members of the Jackson hip-hop scene are making a concerted effort to galvanize the movement and stake a claim in the city and nationally.
"Jackson is trying to find an identity, both with music and dancing," Rollins says.
Beyond its meaning and relevance to hip-hop culture, "Rip the Cypher," fundamentally, provides a venue for young people to express themselves. "There isn't always a whole lot for younger people to do in Jackson," Venom says. "We try to provide that at least once a month. 'Rip the Cypher' events will always be for all ages. That's why we start at 6 and end at 10. Got to get the kids home before curfew."
The next "Rip the Cypher" is Saturday, Feb. 19, at the North Midtown Arts Center (121 Millsaps Ave.). Cover is $5; doors open at 6 p.m. Check RiptheCypher on Facebook for more details.