Wednesday, December 28, 2011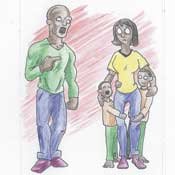 Twenty-four American women and men will become victims of intimate-partner violence in the minute it will take you to read this story. If it takes you two minutes, the number jumps to 48.
Rape, physical violence and stalking in relationships are much more prevalent than previously thought, reports the Centers for Disease Control in a survey released last week. In comparison to U.S. Department of Justice data on reported crime, the numbers are exponentially higher in some categories such as rape, which is seven times higher.
The data do not particularly surprise Heather Wagner, director of the Mississippi Attorney General's Office Domestic Violence Division.
"It's difficult seeing it in print like that," she said. "... (But from) what we're hearing from the courts and from law enforcement and from advocates, it kind of jives. I was surprised, but not really."
The CDC completed interviews for this first "National Intimate Partner and Sexual Violence Survey" in 2010, culling data from talking with 16,507 adults (9,086 women and 7,421 men). The survey elevates domestic violence from a .crime to a serious public-health issue. Not only are the numbers startling--more than a third of all women and a quarter of all men have experienced violence from an intimate partner--IP violence affects victims' health long after the event. Victims are more likely to suffer from frequent headaches, chronic pain, difficulty sleeping, and poor mental and physical health, among other ailments, than those who did not experience such violence.
Sandy Middleton, executive director of the Center for Violence Prevention in Pearl, has seen the results of domestic violence on victims and their children. Many exhibit post-traumatic stress symptoms, similar to what soldiers present after battlefield experiences.
Middleton also said that victim calls for assistance at the center doubled this year. She attributes much of the increase to community involvement and providing better responses.
"We're beginning to understand the issue, and more and more people are getting educated on what domestic violence is," she said. "... Typically, victims don't come forward because they don't trust the system. When the system starts to turn around, and they get it, then victims say, 'Oh, well, I can call for help.'
"It's always been my thinking that the real victims are the ones you don't hear from until you turn the system around."
In 2009, Mississippi ranked No. 16 in the nation (tied with West Virginia) for domestic murders at 23, down from No. 5 in 2008, reports the Violence Policy Center, a Washington, D.C., non-profit that works to stem the tide of gun violence "through research, advocacy, education and collaboration."
The organization has reported domestic murders in its annual When Men Murder Women reports since 1998. The most recent report, issued in September, uses 2009 data.
But murders are just one end result of domestic violence. One in five American women and one in 71 men said they had been raped in their lifetime. More than half the female rape victims surveyed by the CDC reported that it was their intimate partners who had raped them, and about 40 percent said the perpetrator was an acquaintance. Among male victims, more than half reported an acquaintance had raped them. About a quarter of the women and 14 percent of the men report being victims of other physical violence, such as being punched, beaten or slammed against walls.
"The ultimate power and control is rape," Middleton said. "It stands to reason that it's a cousin to domestic violence."
Stalking--especially through harassing calls and messages--also takes a toll, with 16.2 percent of women and 5.2 percent of men reporting it. In looking at the survey conclusions and recommendations, Wagner is confident that Mississippi is on the right track.
"The laws are there," she said. "It's just a matter of making sure they're enforced uniformly across the state."
Wagner mentioned Mississippi's new domestic-violence data system, which went on line this year. The NISVS cites strong data systems as a crucial tool to evaluate and understand trends, and to use when planning prevention and interventions programs. "That's definitely moving in the right direction as far as we're concerned," she said.
For additional info, visit cdc.gov/violenceprevention/nisvs. Comment at http://www.jfp.ms.
Previous Comments
ID

165653

Comment

This article really hit me, as I just learned about a classmate of mine who was killed by her abusive boyfriend. It's scary to think of how often such abusive behavior goes on today.

Author

Jeff Lucas

Date

2011-12-29T08:46:43-06:00