Wednesday, December 7, 2011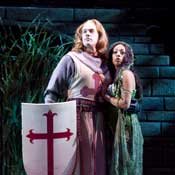 Fans of the comedy classic film, "Monty Python and the Quest for the Holy Grail," will appreciate the humor and re-imagined history of the Broadway hit "Spamalot." Fans of Broadway shows will enjoy the inside jokes and pokes at the institution of the modern musical. Knights who say Ni will clomp along.
The always silly and sometimes witty take on the King Arthur legend has its round table, its dysfunctional monarch and its monsters to slay, such as the infamous killer rabbit.
The musical is "lovingly ripped off" from the 1974 film, show promoters say on the website, on flyers and perhaps also on a note tied to a pigeon's foot. "Spamalot" won the Tony Award for Best Musical in 2005. (To see a clip of the show, visit http://www.jacksonfreepress.com/jfp.php/events/entry/46349.)
The show is on a national tour now, stopping in Jackson Jan. 17 and 18. The Kessler Broadway show begins at 7:30 p.m. both nights in Thalia Mara Hall (255 E. Pascagoula St.). Ticket prices are $25 to $62.50. For information, call 601-981-1847, or call Ticketmaster at 800-745-3000. You can also send an email to [e-mail missing] or visit http://www.kesslerbroadway.com for details.