Wednesday, August 24, 2011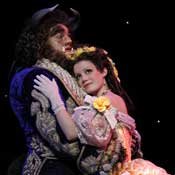 One of the most famous love stories ever told comes to Jackson in October: Disney's "Beauty and the Beast." W. Kessler Ltd. brings the musical, based on a French fairy tale, to Thalia Mara Hall (225 E. Pascagoula St.) Oct. 18 to 20.
See the characters Belle, Beast, Lumiere and Mrs. Potts come to life on stage. See lavish sets and hear spectacular musical numbers, including "Be Our Guest."
The time-honored fairy tale tells of the romance between Belle, the beautiful daughter of a captured merchant, and Beast, a cursed prince. Walt Disney Feature Animation adapted the story of love and acceptance to animated film in 1991. The stage musical is based on the Disney film, adapted by Linda Woolverton, Alan Menken, Howard Ashman and Tim Rice. "Beauty and the Beast" features Dane Agostinis as "Beast" and Emily Behny as "Belle."
W. Kessler Ltd. has brought its Best of Broadway series to Jackson for 28 years. Locally owned and operated, the company presents national tours of some of the most acclaimed productions on Broadway. This year's Best of Broadway series includes "Peter Pan" Sept. 20 and 21, and "My Fair Lady" on Nov. 14 and 15. Shows start at 7:30 p.m., and ticket prices start at $27.60. The season includes two additional shows in 2012.
\Season ticket prices start at $90.
Learn more at http://wwwkesslerbroadway.com, or call 601-981-1847.