Wednesday, August 24, 2011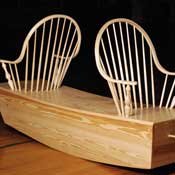 The 2011 Mississippi Invitational, hosted by the Mississippi Museum of Art, will include work by contemporary artists around the state. The upcoming exhibit marks the eighth installation of the showcase, which began in 1997.
The new exhibition runs from Oct. 8 to Feb. 5, 2012, and showcases selected artists' work in various mediums. Los Angeles, Calif.-based curator Franklin Sirmans chose the exhibit's art.
All artists included in the exhibit are eligible to apply for The Jane Crater Hiatt Artist Fellowship. Jane and Wodd Hiatt created the grant in 2005, which offers up to $15,000 to one artist to nurture and invigorate the arts. The recipient of the fellowship can use the funds to study with another artist or studio, conduct research, purchase art supplies or travel. The artist is required to donate one original piece to the museum, chosen from at least five works created during the two-year grant period.
The invitational exhibition will hang in the Donna and Jim Barksdale Galleries for Changing Exhibitions. The museum will produce an illustrated catalogue of the exhibit. The Mississippi Museum of Art (380 South Lamar Street) is open Tuesday-Saturday 10 a.m. to 5 p.m. and Sunday from 12 p.m. to 5 p.m.
For more information, call 601-960-1515 or visit http://www.msmuseumart.org.