Wednesday, August 17, 2011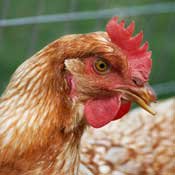 It's been a busy summer for Craig Dubow, CEO of Gannett Co., the parent company of The Clarion-Ledger and the Hattiesburg American. First, Gannett fired more than 700 employees corporate-wide this summer to make its stockholders happy. Then, Gannett launched Deal Chicken, an advertising campaign based on the Groupon model that overuses every hen and egg metaphor invented. And now, the head of Gannett is embarking on town-hall visits to some of Gannett's properties. Dubow visits the Jackson newspaper for the first time Wednesday, Aug. 17.
Although Gannett calls these visits "town-hall" meetings, it is a misnomer. The public isn't invited. These meetings are for Gannett employees. The "town hall" part means the meeting will have a question-and-answer format. Long-time employees know that asking direct, pointed questions might lead to possible reprimands.
Staffers at The Clarion-Ledger certainly have lots of questions, perhaps including who will take over the newsroom. Former executive editor Ronnie Agnew started his new job this week as executive director of Mississippi Public Broadcasting. Agnew left the position only about six months after Leslie Hurst became publisher—this is her seventh newspaper to head as publisher in 14 years.
Many at The Clarion-Ledger are probably concerned about their own jobs. At the end of June, Gannett laid off at least four more workers at The Clarion-Ledger. Employees might be ordered to take furlough days off or take a cut in pay to help the stockholders realize better profits. As the staff—and the paper—grows smaller each year, employees undoubtedly want to know how much smaller it can get and still put out a news product.
Joining Dubow in Jackson will be Gracia Martore, president of Gannett, and Bob Dickey, president of the company's U.S. Community Publishing division. They will make a similar visit Aug. 23 to the Asbury Park Press in New Jersey.
The Street (http://www.thestreet.com) reported Aug. 3 that Gannett stock hit a new 52-week low earlier this month when it traded at $11.58. That was before the Dow dropped 500 points Aug. 4, affecting much more than Gannett. As this issue went to press, Gannett stock was trading at $11.03 a share. Historically, when Gannett stock goes down, the company lays off employees to improve stockholder value, regardless of how individual properties, like The Clarion-Ledger, are faring.
Dubow and his entourage might also talk about Deal Chicken, a social-media advertising method that relies on emailing a "deal of the day" to subscribers. So far, Deal Chicken is limited to its 50 larger markets, such as Nashville, Tenn., and Louisville, Ky. A Louisville reporter asked her Facebook friends to sign up for the Deal Chicken email alerts—if she gets more than anyone else in her newsroom, she wrote, she'll get a cash reward. Gannett is promoting the new advertising vehicle with phrases like "hatching soon."
"Deal Chicken builds on Gannett's unparalleled local market presence and digital strength," a July new release stated, quoting David Payne, senior vice president and chief digital officer. "Gannett's local focus and expertise will provide a winning recipe for consumers and merchants alike. Our people on the ground know the markets, the communities, and their respective needs, and only Gannett can provide merchants with the local media support necessary to create a multi-dimensional marketing strategy that includes daily deals."
The news release goes on to admit that the relatively new daily-deal market segment is already crowded. "But the industry is fast evolving, and there are many opportunities out there, especially in local markets where these deals are developing into a new category of local advertising," the news release quotes Peter Krasilovsky, vice president at BIA/Kelsey, a Virginia-based advertising consulting firm, as saying.
Deal Chicken hasn't ruffled any feathers in Jackson, yet. Subscribers to the new service haven't received their first offers via email. The little yellow hen head has popped up on The Clarion-Ledger house ads, but the Mississippi deals are not apparent yet.
During his Jackson visit, Dubow might also address Gannett's search for "passion topics." Gannett's latest news buzzword is apparently "passion," according to posts at Gannett Blog. At the media giant's newspapers around the country, staffers are conducting "passion" interviews to figure out what readers in a particular community care about most. Readers in Fort Myers, Fla., who agreed to a 60-minute interview got paid $50 for their input, the Fort Myers News-Press reported.
Staffers at the Clarion-Ledger might have passion topics of their own to share when welcoming the Gannett leaders to Jackson.