Wednesday, August 17, 2011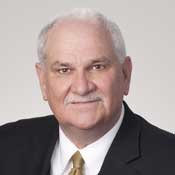 The Aug. 2 Republican primary for Madison County sheriff was a fierce race with five candidates vying for the post. Madison County Sheriff Toby Trowbridge will retire this year. One of the candidates, Mark Sandridge, caught the most media attention this spring after his campaign portrayed Jackson in a negative light. His campaign tactic may have backfired; he received only 11 percent of the vote.
The two candidates with the most primary votes, Jimmy Houston and Randy Tucker, will compete in a run-off election Aug. 23. The winner will face Democratic candidate Ted Smith in the Nov. 8 general election.
Jimmy Houston
Former Ridgeland Police Chief Jimmy Houston began his career in law enforcement in 1973 as a Jackson Police Department officer. In 1999 he left JPD to serve as Flowood police chief until 2000 when he became director of the Department of Public Safety. In 2002, he became Ridgeland's police chief. He retired earlier this year. The 59-year-old cites his experience and the relationships he has with area law enforcement as his advantages in the race. Visit his website (http://www.jimmyhoustonforsheriff.com) for more information.
How did you work with JPD when you were chief?
The Precinct 4 commander and I did stake outs together. Up until we changed radio systems, we had radios that talked to each other. Jackson is trying right now to come online so we can get back to that.
How much of your resources did you allocate to County Line Road when you were Ridgeland's chief?
If you are talking about accidents, County Line Road is one of the biggest areas between Ridgewood Road and I-55 that lead our cities on accidents. Did I put people there? Absolutely. Why did I do it? Because people were running red lights, blocking intersections and having a lot of wrecks.
Why do you want to be Madison County sheriff?
I want to take what Jimmy Houston accomplishes to the sheriff's department. I want to make it county wide instead of just city wide. I am a leader. I recognize leadership. I want to take the department to the next level through training, technology and efficient budgeting.
There is a perception from some people in Hinds County that if you drive into Madison County with Hinds County tags it's likely you are going to get pulled over. Is that true?
A lot of times perception is reality, but that was another sheriff candidate's feelings. With the technology that we have in Ridgeland, a complaint of that it's easy to check. All I have to do is pull up the computer, take a look at the video and see why the officer stops them. The Ridgeland Police Department also has a stringent racial-profiling policy that is adhered to and checked when there is a complaint.
Courtesy Randy Tucker
Randy Tucker
Randy Tucker calls Madison County home. His immediate and extended family live in the county, and he calls himself a dedicated citizen. The 41-year-old graduated from the Mississippi Law Enforcement Officers Training Academy in 1994. He began his career working at the Madison County Sheriff Detention Center. In 2000, he moved the Madison County Sheriff's Department and, in 2002, received a promotion to serve as chief officer of the narcotics division. Visit http://www.tuckerforsheriff.com for more.
Why do you want to run for sheriff?
We want to maintain the quality of law enforcement that we have under Sheriff Trowbridge. These men and women in this department have gotten behind me and think I am the man for the job. I want to do the job not only for them but for Madison County.
How will you work with other metro-area law enforcement?
It's vital for all of law enforcement to work together. We are outnumbered by criminals as it is. Our neighboring law enforcement entities such as the Jackson Police Department, Hinds County and Yazoo or Holmes—we have to have a good working relationship with them. Crime is going to go over the county lines.
How are you already working the different counties?
If you have got a suspect that has left your jurisdiction, in say, Madison County and gone into Hinds County, you need a representative from that department or jurisdiction to accompany you and make a lawful arrest. Drug deals, for example, that we have done a million times over the last few years spill over to other jurisdictions.
Your former opponent's ads insinuated that crime stops at County Line Road. What do you think about that?
I don't agree that crime stops at any boundary, imaginary or visible. I think the population level of Hinds County has overwhelmed their law enforcement. But it's not their fault. Anytime you have a metropolitan area, the crime is going to be higher because there is a more dense population.
To read more candidate interviews and more political news, visit http://www.jfppolitics.com and follow @jfppolitics on Twitter.