Wednesday, August 17, 2011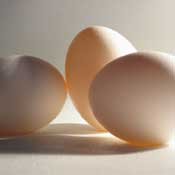 I love breakfast. Eggs over easy, waffles, blueberry pancakes, mmmm—good, hearty food that will get you moving. But even though I love it, it's not one of the meals I cook frequently. During the summer, I get up too late and might as well fix lunch, and during the school year, I get up too early to "fix" anything other than pre-packaged cereal bars.
On weekends, however, I enjoy cooking pancakes and muffins. I love playing with ingredients; right now, I'm experimenting with sweet potato and cinnamon. No one else in my house seems to appreciate my weekend experiments, unfortunately, and as a result, the family has removed me from breakfast-making duty unless someone wants cereal, toast or some form of egg dish.
One of my family's favorite egg dishes is the strata. I had been under the impression that this layered egg, bread and cheese concoction was a "fancy" meal that I couldn't master in my own kitchen. That was until my sister-in-law, Susan, made her French toast casserole while we were on a family vacation. I was amazed that something with such basic ingredients was so rich and decadent. Not only that, it took her about 10 minutes to prepare, and it fed my husband's humongous family with leftovers to spare. (Her recipe is included.)
Searching for her recipe led me to savory stratas, and I was hooked. These baked breakfast casseroles are perfect for a variety of reasons. Because the ingredients need time to meld, a strata needs to be prepared ahead. You can prepare one in the evening (when you might actually have time) and then pop it into the oven the next morning. Stratas can be baked in muffin tins and frozen individually, which allows you to heat and eat individual servings. They are also a tasty way to use up several ingredients I always seem to have on hand—stale bread and leftovers. These "stratified" dishes are basically big pans of cheesy, custardy goodness with unlimited variations.
My favorite version is the leek strata. Its flavor is mild without being bland, thanks to the leeks and the Jarlsburg cheese. It is dense while almost soufflé-like in texture. While I personally prefer the recipe as written, it's a good one to build on. Add some asparagus, bacon, broccoli, ham or whatever makes you happy.
French Toast Casserole (Serves eight to 10)
16 slices bread (whatever you have on hand; white, raisin, etc.) crusts removed
1 8-ounce package cream cheese, cubed
1 dozen eggs, beaten
2 cups milk
1/2 cup maple syrup
Layer eight slices of bread in the bottom of 9-by-13-inch pan, cutting to fit. Top with cream cheese, and then cover with remaining eight slices of bread.
Whisk together eggs, milk and syrup and pour over bread. Cover with foil and refrigerate over night.
While still covered with foil, bake at 350 degrees for 30 minutes. Lower oven temperature to 325 degrees, remove foil, and cook an additional 15 minutes until the casserole is puffy and browned.
While I think this is sweet enough as is, you can top each portion with more syrup or dust with powdered sugar.
Simple Strata (Serves four to six)
1-1/4 cup evaporated milk
1/4 cup beer (or more milk, cream, etc.)
7 slices bread, cut into 1-inch cubes
1 leek, thinly sliced (I use all of the white part and about 1/4 of the green part.)
2 tablespoons butter
1 or 2 cloves garlic, minced
1/2 teaspoon dry mustard
A few dashes Worcestershire sauce (or to taste)
1/2 cup to 1 cup cheddar cheese, grated
1/2 cup to 1 cup Jarlsburg cheese, grated
5 eggs, beaten
Salt and pepper to taste
Sauté leeks and garlic in butter until soft. While that is cooking, mix together eggs, milk, beer, mustard, Worcestershire sauce, salt and pepper.
In a lightly greased 9-inch square pan, layer bread cubes, sautéed leeks and cheese. Repeat layers, ending with cheese. Pour the egg and milk mixture over the layers. Cover with plastic wrap. Place a second dish (I use an aluminum pie pan) on top of the strata and weigh down with several cans from the cabinet or other random household items. Refrigerate for at least two hours.
Remove extraneous items and plastic wrap. Bring to room temperature, and then bake at 350 degrees for 45 minutes or until puffy and lightly browned.
Note about cheese: While the recipe calls for specific types and measurements, I usually just add a handful or two of whatever pre-shredded cheese I have on hand. You can use a single type, but it is better with two cheese varieties.
Variations:
• If you add additional veggies or meat, lengthen your cooking time by about 15 minutes or so. Just make sure eggs are set.
• To make egg "muffins," prepare the recipe as written, except layer into a greased muffin tin. Bake for 20-35 minutes or until puffy, golden and set. The recipe makes 12 regular sized or six extra large "muffins."
More like this story