Wednesday, August 10, 2011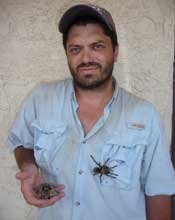 He may not be able to shoot webs out of his wrists, but Brent Hendrixson is a real-life "spider man." When he was a child, his mother would be hard-pressed to find him inside the house. Hendrixson spent almost his entire childhood neck-deep in the abundant ponds and marshes of his native Thornton, Colo. He loved being outdoors, looking for critters.
Spiders are undoubtedly Hendrixson's favorite animals. "I've always been extremely interested in the creepy crawlies that most people turn their heads from," he says.
At 34, he still has a passion for terrestrial arthropods. Hendrixson has been an assistant professor at Millsaps College since August 2008, teaching biology and zoology courses and running a field research program to identify genetic species-level diversity in tarantulas.
Hendrixson never thought he'd end up teaching. His ambition was to work in Colorado as a naturalist or a park ranger, so he majored in field biology at the University of Northern Colorado, earning his bachelor's degree in 1999.
In his junior year in college, Hendrixson heard research calling his name. "It was kind of a life-changing moment," he says. "Suddenly, I knew exactly what I wanted to do with my fondness of spiders."
Hendrixson went on to West Texas A&M University, where he received his master's in biology in 2002. One of his professors there was a scorpion biologist, and Hendrixson admired his ability to share his passion for scorpions with his students. He decided to share his knowledge as well. At 24 and volunteering at the Natural History Museum in Denver, Hendrixson moved on to East Carolina University in North Carolina, where he got his doctorate in evolutionary biology in 2006.
Millsaps has been a wonderful fit for Hendrixson. He wanted to teach at a smaller school where he would be able to share his enthusiasm for his field in close contact with the students. The small class sizes at Millsaps help him know the students personally, and Hendrixson loves the friendly atmosphere.
"The knowledge we gain is useless unless you're sharing it with other people," he says.
An avid runner, Hendrixson lives in Ridgeland with his wife, Krissy Rehm. The two enjoy their proximity to the multi-use trails and the Natchez Trace.
Hendrixson had a millipede named after him, Hendrixson's mimic millipede, a species he discovered in eastern Tennessee. He says his favorite spider is an unnamed species of tarantula from southern New Mexico. As part of his research, the National Science Foundation has tasked him with naming it.
"Tarantulas just have so much charisma," he says. "Nobody has a neutral reaction to a tarantula."