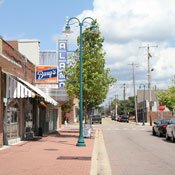 The Jackson Redevelopment Authority is demanding lease money or updates from Farish Street developers this month.
The JRA owns the property that the Farish Street Group LLC is developing, but the quasi-government redevelopment agency agreed to defer lease payments from David Watkins, a member of the group, last November, until Watkins found tenants for the high-end real estate.
Watkins took over development of the Farish Street Entertainment District from Performa, the developer behind Memphis' glitzy Beale Street, in 2008 after Performa failed to get the project off the ground. Watkins, the developer behind the King Edward Hotel and the Standard Life Building renovations in downtown Jackson, stepped in to continue Farish Street district development after paying Performa $425,000 and agreeing to assume the $1.5 million in debt Performa accrued while attempting to renovate the historic district.
Farish Street Group LLC invested about $8 million into the Farish Street development by February, which includes about $4.5 million in loans. Developers in the district qualify for federal tax credits worth up to 20 percent of development costs to help with renovation. Finding post-renovation tenants, however, has been neither quick nor easy.
The JRA agreed that finding tenants for the district would be a challenging task considering the expensive buildings in the area, which must meet strenuous and costly building requirements to maintain historic designation. Authority members showed impatience with the lack of project follow-up, however.
"The motion that was made in order to defer payments was contingent upon them providing us with letters of intent for the tenants, and it is my understanding that we have received neither (letters nor money)," said JRA member Matt Thomas. "Does that not void the motion that we made?"
"That means the condition for your extending the payments have not been met," answered JRA attorney Zack Taylor, who offered no suggestions on the board's next action.
The Jackson Redevelopment Authority has deferred $1,500 a month in minimum guaranteed rentals for Watkins' parcels since November 2010, but the board voted to demand back payment from November forward, unless Watkins delivers letters of intent for leases, actual leases, or an assessment on where the project stands. JRA members said they would be satisfied with a status report on prospective tenants and where developers stand in signing lease deals with them.
"I just want them to come clean. If they would come up in here right now and say, 'We ain't got nothing yet,' we'll work with you, but don't bring me no lie and spell it l-y-e," Thomas quipped. "All they've got to do is bring letters of commitment or updated reports."
Watkins did not immediately return calls for comment, but JRA members expected a representative of the Farish Street Group to make a presentation before the JRA soon.
Previous Comments
ID

163299

Comment

Adam, Sorry that we were unable to connect today. However, I was at the Metrocenter press conference this morning when you called. FYI, an oral report was given to the executive director last month. We have now been advised that a written report is requested, which is being prepared and will be sent next week to the JRA board. According to the Zach Taylor, board attorney, and Bishop Ronnie Crudup, Chairman of the Board, this will satisfy all requirements. If you have any further questions, please call me. David Watkins Managing Member, Farish Street Group, LLC

Author

Pops

Date

2011-04-28T21:06:06-06:00