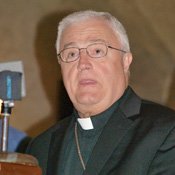 About 20 Mississippi faith leaders gathered in the rotunda of the state capitol yesterday to appeal for a moratorium on executions in the state. The press conference came one day after the state Supreme Court announced May execution dates for two men on death row in the Mississippi State Penitentiary at Parchman.
"The time was now to ask our state leaders to find new ways to deal with one of the largest societal dilemmas of our time. And that is: How to deal with heinous criminal actions of murder and violence and still hold people accountable in ways that do not require the killing of a person," said the Rev. Carol Borne Spencer, chairwoman Mississippi Religious Leadership Conference, an interfaith coalition with its roots in the Civil Rights Movement of the 1960s.
The MRLC released a statement (see MRLC_statement.pdf) April 29 calling for "an immediate moratorium on sentencing human beings to death in the name of the state and in the name of justice," signed by 49 religious leaders from Christian, Jewish and Muslim congregations across the state.
"Many have called us idealistic," Spencer said. "But to follow in faith is not about living by earthly standards or easy solutions, but about faithfulness to our God, who we believe is 100 percent about love and forgiveness. This is the reality on which we stand."
Idealistic is exactly the words used by Anne Pace, a Jackson resident whose daughter, Murray Pace, 22, died at the hands of an apparent serial killer in 2002. Derrick Todd Lee, sitting on death row in the Louisiana State Penitentiary in Angola, is a suspect in at least seven killings.
Pace stood respectfully still and silent during the press conference, holding a poster mounted with photos of her daughter. Later, she cited controversial pro-death penalty studies from the early 2000s showing that executions deter murders.
"I think abolishing the death penalty is idealistic, sounds good, feels good to support, but it does not protect life, it does not protect us, and I think our most important moral obligation in our life is to protect ourselves, our children, and our community, and I think that the death penalty does in fact do that," Pace told the Associated Press.
Bishop Joseph Latino of the Roman Catholic Diocese of Jackson was adamant, however, that the death penalty is not a solution to violence. During his short speech, he reached out to victims' families.
"We surely recognize that crimes have been committed that are most heinous in the eyes of our society and in the eyes of God himself; however, we only continue the cycle of violence by having our state kill in the name of justice," Latino said. "Indeed, I am very aware of the pain and suffering of victims' families in these cases. Theirs is a suffering beyond comprehension, and they deserve our support, our prayers and our love. Peace and healing for their unfathomable pain is something only that faith can offer. Putting to death the person guilty of causing such great pain will not bring back lost the precious lives that have been taken. In fact, it will only create another set of victims, namely, the family of the person who is executed.
Lantino indicated that sentencing a criminal to life imprisonment could be a harsher punishment than death.
"True justice for them is life in prison without parole, effectively isolating them from the society in which they have offended," he said.
Given our society, however, it's easy to seek retribution said the Rev. Steve Casteel, director of correctional ministries, Mississippi area, United Methodist Conference.
"I have to tell you that I stand here conflicted. To not say that would be a lie," he said. "As a person in a culture full of violence, injustice and people who are broken, there is a part of me, deep in my essence that desires that people who hurt other people are hurt back."
Casteel pointed to a justice system that simply is not working, however.
"We in Mississippi are caught in a dynamic of a justice system and a correctional system that is profoundly broken. For me, this conversation is not just about the death penalty. It is about how we as a culture deal with the violence we inflict on each other," he said. "... The criminal system that we have needs incredible reform. We have not given it the attention that it needs. It is not a correctional system; it is an incarceration system. ... What we have does not work. The death penalty has not slowed down murder."
Scheduled for execution May 10 is Benny Joe Stevens, 52, sentenced to death in 1999 for killing four people in Marion County: his ex-wife, Glenda Lee Reid, 38; his son by Glenda Reid, Dylan Reid, 11; Reid's husband, Wesley Lee Reid, 38; and Dylan's 10-year-old friend, Heath Pounds.
The Mississippi Supreme Court also set a May 17 execution date for Rodney Gray, 38, sentenced in 1996 for the 1994 rape and murder of 79-year-old Grace Blackwell of Louin.
Earlier this year, Attorney General Jim Hood also requested an execution date for Robert Simon Jr., 45, convicted of a three homicides in 1990; however, the court has not ruled on that case, yet.
Asked what the response would be if all pastors denounced the death penalty from the pulpit, Bishop Latino was straight forward: "Probably, some collections would drop. I'm sure people would not buy it. I'm sure there are some people in this country who still believe in an eye for an eye and a tooth for a tooth."