Wednesday, April 20, 2011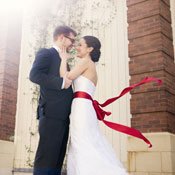 First there were Bennifer and Tomkat, and then came Brangelina. And now Jackson has the Schwindickermans, also known as Darren Schwindaman, 27, and Melia Dicker, 30. The playfulness of combining their last names is indicative of the type of couple they are.
"It's funny to call ourselves the Schwindickermans. Even our grandparents will address things to the Schwindickermans now," Melia says.
The couple met through Melia's sister, Gillian Burgess, in 2005 at Darren and Gillian's graduation from Loyola University in New Orleans. "I thought Darren was really cute," Melia says. "We sort of hit off a little bit, but we didn't stay in touch afterward."
Three years later in 2008, on a trip to Mardi Gras with friends, their spark rekindled. "I thought she was like smokin' hot and way out of my league," says Darren, who had moved back to Jackson after Hurricane Katrina.
"I didn't know really that the attraction was mutual at that time. But I was just kind of throwing it all to the wind." Melia says, "We had a lot in common. We had the entrepreneurial spirit and sort of artistic interests."
What would seem an unlikely pair—a Mississippi boy and California girl—soon blossomed into friendship and then romance.
They spent the next year cultivating their relationship from a distance, including an epic four-day tour of San Francisco, where Melia was living at the time. "We did a taco crawl ... like a pub crawl. We went to 10 taquerias," Melia says. All her efforts of planning the weekend, didn't go unnoticed by Darren. "I was swept off my feet at that point," Darren says.
Melia took a huge step in 2009 and moved to Jackson. The transition wasn't completely without its challenges, but Melia soon found her stride with Darren's support.
Marrying Melia is something Darren had in the back of his mind for a while. "By the end of 2008, I was confident that I wanted to get married," he says.
Darren proposed to Melia on Feb. 3, 2010, at Amerigo Italian restaurant in Ridgeland. It was a movie-worthy moment: The waiter presented the ring with Melia's dessert. Darren got down on one knee with the entire crowd watching, and people clapped when she said yes.
Their wedding theme revolved around their love of travel. Darren designed all the materials, including invitations and website with this in mind. "We chose this kind of international envelope feel for everything. It's elegant, but still kind of funky. I just thought it struck the right tone," Darren says.
In March 2010, Darren and Melia started their own media business, Creative Distillery, with Melia's sister, Gillian. Darren works as the graphic and web designer, and Melia handles communications, branding and operations.
Darren also created the invitations for another JFP Hitched couple, Brad and Funmi Franklin.
The couple exchanged vows Feb. 26, in the Union Station foyer off Mill Street, with a reception following in the Union Station ballroom.
"We wanted to do the ceremony from beginning to end our way. ... We kind of came up with our own road map of what we liked," Darren says. "We let our creativity shine through and our personality and let that be front and center the whole time."
The couple opted for an interfaith ceremony that borrowed from many traditions, including the lighting of a unity candle from the Christian tradition.
"We're definitely not anti-tradition or anti-religion," Melia says. "It's just that we picked and (chose) what was meaningful to us."
They also added their personal touches, including a family blessing and the reading of the poems "To Love is Not to Possess" by James Kavanaugh and "Love Sonnet XVII" by Pablo Neruda.
The bridal party, which included Melia's sister as matron of honor and Darren's brothers as best men, donned black dresses with an optional red sash accent, and dark gray or black suits for the guys with red satin ties. They kept it simple, with many of the bridal party wearing something they already owned.
The bride wore a satin strapless floor-length Jessica McClintock gown with a delicate shimmery lace overlay. Brenda Dampeer of Nana's Alterations in Jackson added the sash.
"Wearing a red sash and shoes was my way of recognizing my Chinese heritage. Traditionally, Chinese brides wear red or pink, which represents happiness," Melia says. Darren wore a custom-fitted charcoal-gray suit from Great Scott.
For the reception, the couple offered guests food stations with regional and international cuisines: the Louisiana bayou, Mexican fajitas, an Italian pasta bar, American dips and appetizers, and a French pastry station with crepes and crème brûlée.
"Cakes are beautiful, but neither one of us loves to eat cake. We prefer pastries, and it goes more with our theme. We didn't want to do anything just to do it," Melia says.
Instead of a bouquet toss, Darren and Melia honored the couple in the room that had been married the longest.
Because they had a smaller, more intimate wedding of primarily family, after the ceremony and reception, Darren and Melia hung out at the King Edward Hotel Bar with friends who weren't able to be at the ceremony.
For their honeymoon in April, the couple will travel to Italy, Spain and France. It will be their first time in Europe together as a couple.
Vendors
Wedding and Reception Venue: Union Station (300 W. Capitol St. at Mill Street). Booking through the Jackson Redevelopment Authority, 601-960-1815.
After-Reception Drinks: King Edward Hotel Bar (Hilton Garden Inn Downtown Jackson, 235 W. Captiol St., 601-353-5464)
Rehearsal Dinner: Pan Asia (720 Lake Harbour Drive, Ridgeland, 601-956-2958)
Reception DJ: Scott Steele (305 Towne Center Place, Suite B, Ridgeland, 601-540-6467, http://www.scottsteelemusic.com)
Photography: Adam Hudson Photography (601-317-0595, http://www.adamhudsonphotography.com)
Catering, Floral, Table Settings: Wendy Putt, Fresh Cut Catering & Floral (108 Cypress Cove, Flowood, 601-939-4518)
Lighting Design: Davaine Lighting (601-906-9051, http://www.davainelighting.com)
Special Touches
• During the ceremony, friends and Jacksonians Jamie Weems and Johnny Bertram performed specially requested songs, "Somewhere Over the Rainbow" and "Sea of Love."
• As a wedding gift, artist Stephanie Dwyer (601-955-0457, http://www.missmetaldesign.com) created a bottle tree arbor for the ceremony.
• Darren and Melia chose married couple and ordained ministers David and Debo Dykes of the D. L. Dykes, Jr. Foundation and Faith and Reason (200 S. Lamar St., Suite 130S, 601-354-0767, http://www.faithandreason.org) to officiate the ceremony. "Their relationship is so what we want to be," Melia says, to which Darren adds: "They're super vibrant, really funny, travel a lot."
• The couple registered at http://www.HoneyFund.com. "It's not just like, 'give us money.' It's like 'here's a piece of the experience,'" Darren says. People could contribute small amounts to events like the couple's first dinner in Barcelona or a bottle of wine for each night of their cruise.
• With their commitment to "shopping local," Darren and Melia purchased their wedding rings from Carter Jewelers using vouchers they purchased from JFP-sponsored Half Off Depot. In a turn of events, Melia's ring got stuck on her finger. You can read the entire story on their blog, http://www.eatdrinkandbemarried.com. Windex was involved.
Suggest a Hitched couple at [e-mail missing].