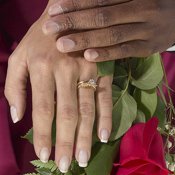 This story has been updated to reflect a correction.
At least 46 percent of 400 Republican voters in Mississippi believe that interracial marriage should still be illegal in the state, a new Public Policy Polling survey finds.
Public Policy Polling, located in Raleigh, N.C., conducts polls for national and state races through automated telephone surveys and online polling.
The poll found that 46 percent of "hardcore" Republicans believe interracial marriage should be illegal while 40 percent think it should be legal and 14 percent are undecided. The majority of the voters polled were 46 and over.
The survey also found that Lt. Gov. Phil Bryant has 63 percent of the Republican voters' support, and 37 percent support Gov. Haley Barbour for president, if he chooses to run, against Mike Huckabee, Sarah Palin, Newt Gingrich, Mitt Romney, Michele Bachmann, Tim Pawlenty and Ron Paul.
The poll did not include any Democratic candidates for either the governor's race or the presidential race. Mississippi Republican gubernatorial candidate Dave Dennis received the second highest support for governor at 14 percent. Twenty percent of voters were undecided.
Recent U.S. Census data numbers show that multiracial populations increased by 70 percent in Mississippi between 2000 and 2010. On March 19, The New York Times reported that Mississippi had the highest growth in interracial marriages in the country over the last decade.
The poll, released today, is part of a series of statewide surveys Public Policy Polling conducted from March 24 through March 27. On March 31, the organization released a poll that surveyed 817 Mississippi voters on the state's Republican and Democrat governor candidates. In the poll, voters choose Bryant as the favored candidate over any Democrat.
A previous version of this story stated that at least 400 Mississippi Republican voters surveyed believe that interracial marriage should still be illegal, when in fact 46 percent of the 400 Republicans surveyed believe interracial marriage should be illegal. We apologize for the error.
Previous Comments
ID

163032

Comment

It apparent that most of the older generations will say if you weren't born in Mississippi, you have no rights to be in Mississippi. They don't like African American, LGBT,anyone who has an opinion different from the community in which they live. One thing they don't realize is that their ancestors weren't "born" in Mississippi. They weren't even born in this country. Someone should educate those who forgot that Mississippi is not a republic within the U.S. It's a state, just like the other states. If they don't like that, then maybe they should move back to where their ancestors came from.

Author

DeGuyz

Date

2011-04-07T14:27:31-06:00
ID

163035

Comment

Isn't PPP the same polling company who openly rooted for Democratic candidates and against Republicans over the past 2 years? Sorry if the company's past gets in the way of me taking anything they produce at face value any more, and/or somehow applying these survey results to the entire GOP base in MS. That being said, those 184 "republicans" are idiots and another poll could equally find the exact same thing on the other side.

Author

RobbieR

Date

2011-04-07T15:32:35-06:00
ID

163036

Comment

So what? Who says you have to support mixed marriages? Lots of Dims and Independents oppose it too.

Author

BubbaT

Date

2011-04-07T15:39:35-06:00
ID

163038

Comment

I'm a little confused by the Crosstabs section. Taking the Newt Gingrich section as an example. It appears to show that of the 58% who are favorable to Gingrich, 60% of those think interracial marriages should be legal, 56% think interracial marriages should be illegal, and 56% are not sure. Shouldn't those numbers be going down instead of across in the crosstab chart?

Author

FrankEzelle

Date

2011-04-07T16:38:33-06:00
ID

163042

Comment

Frank, Ward and Lacey looked into that, too. They tell me it does make sense, even though it doesn't look like it on first glance. I'll have to let them explain it, though. Might not be until tomorrow. Bottom line, folks, that has emerged today: A lot of younger (and more progressive thinking) Republicans seem out of touch with what a lot of the older ones believe. Or, are ignoring it. Look, the Dems had to eject all those fool Dixiecrats a few decades back. Most of them, ironically, landed in the GOP. Now it's time for the GOP to send them packing, even if it means risking losing some votes (I believe strongly they would be replaced by many people who call themselves "independent" now if they would have the moral courage to cut this cancer out of the party and end this deal with the devil (with due respect, Bubba). Hell, I might (except that I really dislike all political parties, so I probably wouldn't. Never mind.) Put another way, the head of the RNC didn't apologize to the NAACP a few years back for pandering to the bigoted vote for nothing. It was real, and it too often still is. It doesn't have to be.

Author

DonnaLadd

Date

2011-04-07T18:05:55-06:00
ID

163043

Comment

And by the way, any white person in Mississippi would be lying if they said they don't know another white person over 50 who is against interracial marriage. Bigotry, especially among the older generations, is still here, and everyone knows it. Especially those who deny it.

Author

DonnaLadd

Date

2011-04-07T18:07:29-06:00
ID

163044

Comment

Don't you think it would also be true to say that any black person in Mississippi would be lying if they said they don't know another black person over 50 who is against interracial marriage? I wouldn't venture a guess at percentages on that side of the equation, but that seems like a fairly logical thing to believe.

Author

FrankEzelle

Date

2011-04-07T18:19:20-06:00
ID

163045

Comment

That may be true, Frank, and I would disagree with them as well. (Although most black people over 50 understand that "interracial" is already a strong part of many of their histories, thanks to rapes and philandering by white men over year years.) They also don't have the burden of our brutal history of trying to make it *illegal* (or punishable by lynching in the past) to "miscegenate." (Sorry, can't even spell that hateful word.) Note that the "lawful" part of this is what is particularly relevant. It's one thing to not prefer your kid to marry someone of another race; it's entirely another thing to think it should be illegal.

Author

DonnaLadd

Date

2011-04-07T18:25:46-06:00
ID

163048

Comment

It's one thing to not prefer your kid to marry someone of another race; it's entirely another thing to think it should be illegal. There goes the Republican argument of less government intrusion in our lives.

Author

golden eagle

Date

2011-04-07T19:09:44-06:00
ID

163052

Comment

Donna- I don't know anybody over 50 in an interracial marriage,and I'm not lying, don't know any under 50 in an interracial marriage either ,really I don't. I don't think it ought to be illegal either

Author

BubbaT

Date

2011-04-07T20:06:51-06:00
ID

163053

Comment

I doubt the validity of every poll, Justin. ;-) And I have no doubt that there are old, unreformed (Dixie)crats in this state who agreed. However, there is some truth here to be considered, regardless of what you think about this particular poll. It's fact that the GOP has pandered to racists in recent decades; hell, they apologized for it nationally. They should be called out for that until they stop doing it, regardless of who that makes uncomfortable. I know, personally, that not all Republicans feel this way. But they, especially the younger ones, need to remark this party. I'll leave my views about whats wrong with the Dems, especially in Mississippi, for another day.

Author

DonnaLadd

Date

2011-04-07T20:16:35-06:00
ID

163059

Comment

I find it funny that right-wingers attack "the source" of anything they disagree with, yet defend flagrantly biased organizations such as Fox News, Rasmussen polls and other 'conservative' organizations. They have an uncanny ability to deny facts by shouting them down with "Liberal Source!" Reminds me of one of my favorite names I've seen on some comment section : "FactsLeanLeft"

Author

BobbyKearan

Date

2011-04-08T06:13:08-06:00
ID

163061

Comment

Of course, Brad. So can Ken Muhlman (sp?) who apologized to the NAACP on your party's behalf. I could fill this thread with them. But I don't have time today. I'll share just one really obvious one, though: Haley Barbour and State Sen. Lydia Chassaniol (head of Tourism committee) pandering to the Council of Conservative Citizens (she was keynote speake) -- an organization of (mostly over 50 white folks) built from the mailing list of the Citizens Council. The organization proudly opposes "race mixing." Has either of them apologized for their cozying up to the CofCC? Of course, we can make a whole list of Mississippi politicians who have pandered to the CofCC, including some Democrats (Mike Moore, for instance). The vast majority of them have not apologized for pandering to such a hideous organization (although Ben Allen did apologize on the JFP site a few years ago for speaking to them(.

Author

DonnaLadd

Date

2011-04-08T08:22:40-06:00
ID

163062

Comment

In fact, Jared Taylor is speaking to the CofCC Monday in Jackson. Do you know who Taylor is? "Blacks and whites are different. When blacks are left entirely to their own devices, Western civilization — any kind of civilization — disappears." — Jared Taylor, American Renaissance, 2005 More on the CofCC here: JFP cover story: Guess Who's Coming to Jackson Southern Poverty Law Center And while y'all are out at it, be sure not to miss Lacey's recent cover story about Barbour, the Citizens Council and Yazoo City: very educational about the group Barbour defended recently. And note that part about how they pledged to start a "youth indoctrination" program in the 1950s (after Brown v. Board) and then argue with a straight face that a polling organization couldn't find 200 Republicans over 50 in the state who still believe interracial marriage should be illegal (many of their parents thought it was punishable by death if you recall): Integrating Yazoo: Race and Change in Haley Barbour's Hometown Come on, folks. Let's stop denying reality and start working together to change it. All the defensive partisanship is only blocking progress in our state. Screw party. Stand up for what is right instead of trying to deny the ugly that still lives among us. We all know it. Every one of us. You know what they say: God don't like ugly. (And I'd wager that God's not a big fan of blind partisanship, either. No, I can't provide a link on that one. Just a feeling.)

Author

DonnaLadd

Date

2011-04-08T08:26:07-06:00
ID

163063

Comment

"Bigotry, especially among the older generations, is still here, and everyone knows it. Especially those who deny it." Bigotry is still EVERYWHERE.

Author

Holly Perkins

Date

2011-04-08T08:50:05-06:00
ID

163065

Comment

I find it funny that right-wingers attack "the source" of anything they disagree with, yet defend flagrantly biased organizations such as Fox News, Rasmussen polls and other 'conservative' organizations. Actually, both sides do it

Author

golden eagle

Date

2011-04-08T09:43:27-06:00
ID

163066

Comment

Bigotry is still EVERYWHERE. Of course it is. And that never excuses it anywhere (not saying you are, Holly). Too often, though, people use that fact to try to gloss over what is apparent in their own front yard.

Author

DonnaLadd

Date

2011-04-08T11:05:33-06:00
ID

163071

Comment

Tom: cookies, whigs = LOL. Excellent posts, of course. For the record, I consider myself progressive; you may consider me whatever you wish. ;-)

Author

DonnaLadd

Date

2011-04-08T14:23:31-06:00
ID

163079

Comment

I mean, the president of the senate and gubernatorial frontrunner is currently dedicating his life (and a large portion of the strained state budget) to fighting the Voting Rights Act. How am I supposed to interpret that? Right on, Tom. And Andy, we didn't get it from The Economist. I saw someone post a link to the study on Facebook.

Author

DonnaLadd

Date

2011-04-09T16:10:19-06:00
ID

163093

Comment

Justin, the government does not have a monopoly on education. Parents are free to send their children to private schools, or they can school them at home. So that assertion is factually incorrect. As for charter schools, I am neither a supporter nor an opponent, but they are not a panacea. However, that is a topic for another thread.

Author

Brian C Johnson

Date

2011-04-11T12:30:04-06:00
ID

163098

Comment

Regarding charter schools. Ward Schaefer wrote an excellent cover story that included analyzing whether charters could work in Mississiippi. Read "No Small Feat to learn more. Overall, though, it's as Brian says: they are not a panacea simply because they're privately run. Some work well; others don't.

Author

Ronni_Mott

Date

2011-04-11T15:10:34-06:00
ID

163101

Comment

Is anyone really surprised that many republicans oppose mixed marriages or mixed dating where there is a record made of it. Mixing would dilute and destroy the klan-like or fringe elements of the lame old party and once again act as an inconsistency to their cherished precepts. Don't be fooled by this ladies and gentlemen as republicans are not against getting them a little poontang from from a colored, latino, asian, mixed or other ethnic-type females when no one is looking. They just like to do their work in secret. Their supposed or alleged opposition to mixed marriages is for the purpose of protecting their women from others and to have them all to themselves. They're out of luck on this tip because brother Tiger Woods is hitting more white girls than he is golf balls. And he's not alone on this quest. Can you dig it? Judging from all the sex scandals so many prominent republicans have been involved in and their propensity to say one thing and do another, it wouldn't surprise me to hear of a republicans jumping a rattlesnake if someone held the head and rattler so the noise wouldn't render him fearful and therefore unable to complete the job. How are my republican friends DURING this evening?! Aren't we all just people of different hues and artificial constructs that separate us?

Author

Walt

Date

2011-04-11T17:18:25-06:00
ID

163119

Comment

Justin, by your own definition, public education is not a monopoly. The fact that I cannot afford a Bentley does not mean that the VW Group has a monopoly on cars. Many if not most parents could send their children to a private school if they made it a high priority. Many religious schools offer substantial discounts to their parishioners. And other private schools offer scholarships. But it's hard for me to believe that we're even having this conversation when Jackson has so many private schools. Generally, Republicans seek to cut funding for public education because a) they are dedicated to destroying unions, and most private school teachers are not unionized, and b) they seek to privatize every sector of the economy. Privatization almost always produces a more unequal distribution of resources. Schools struggle for many reasons. In urban environments, schools struggle largely because it is difficult to help poor students from troubled neighborhoods succeed. It is difficult for private schools, and it is difficult for public schools. Some charter schools have succeeded at this challenging task, while others have failed. Some public schools have succeeded, while others have failed. Any other assessment is just ideology.

Author

Brian C Johnson

Date

2011-04-12T16:05:39-06:00
ID

163122

Comment

Nice to make your acquaintance, Justin. I don't have a clue what you are talking about actually. I don't fear anything or anyone except the policies, precepts and wishes of republicans. Aren't republicans the new man anyway? In case this is true, I guess I do have a problem with the man. My family members date everyone regardless of race. Oh, I can't talk about and compare republicans, why not? What about all those family values y'all have? Is being against mixed marriages supposed to be one of them too. Tell us about it. Why is it so? Carry on. Ignore me. I don't know jack.

Author

Walt

Date

2011-04-12T16:54:37-06:00