Thursday, September 30, 2010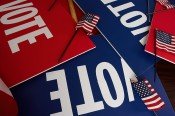 Citizens must register to vote by Saturday to cast their ballots in the Nov. 2 judicial and congressional elections.
Residents must be 18 years old and a resident of the state and county for 30 days. Voter registration applications must be postmarked or filed in the county circuit clerk's office by Oct. 2.
Visit the Mississippi Secretary of State's website to download a voter application or call the Hinds County Circuit Clerk's office at 601-968-6628 for more information.