Thursday, September 30, 2010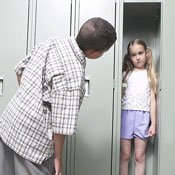 Jervia Powell, 12, cried last year in history class. Some mean girls relentlessly bullied her. She still remembers their taunts.
"They were messing with me, saying I was wearing the same shirt everyday." It made her cry more than once.
Powell, a seventh grader at Woolfolk Middle School in Yazoo City, attended the Anti-Bullying Youth Leadership Conference yesterday. She was one of about 300 participants, most of whom were seventh graders. She is what Attorney General Jim Hood refers to as an ambassador in a statewide cause to stop bullying.
Hood used the conference to announce a collaborative campaign: Fear Stops Here. The Attorney General's Office Crime Prevention Division and Cyber Crime Unit, and the Department of Education's Office of Healthy Schools jointly are launching a website and public service announcements aimed at kids.
Earlier this year, the Legislature passed Senate Bill 2015 requiring school districts to adopt a policy prohibiting bullying or harassing behavior.
The Fear Stops Here campaign emphasizes the danger of cyber bullying. Text messaging is the new weapon and social networking sites such as Facebook are where bullies hang out, Hood said. And it seems to be a bigger problem with girls.
"Children will say things through text messaging and social networking site they normally wouldn't," he said.
The state has no centralized collection of data about the numbers of kids bullied in schools, or how many of those bullied attempt suicide.
"I hope we never have a (bullied) child in Mississippi commit suicide," Hood told the middle-school students and their teachers and parents who were in attendance.
Being the attorney general's daughter doesn't make life any easier for Rebecca Hood, 15, a sophomore at University Christian School in Flowood. She pulled her hair behind her ear as she faced a room of 50 girls at Wednesday's conference.
"Just yesterday, me and another girl were in the principal's office. She decided to say things about me that were just wrong," she said.
School's only been back in session for a couple months, but Rebecca Hood has already come home crying a couple of times. She encouraged younger girls to speak up when they see someone attacked, whether the attack is with closed fists, cruel words or hateful glares.
"Raise your hand if you would be the one to save a life," she said. Most of the girls raised their hands. Rebecca Hood waited and looked at everyone. The rest of the girls in the back also raised their hands.
"I want you to save a life," she said.
Kelsey Ann Jackson, 18, a freshman at Ole Miss, started her own campaign to stop female bullying called "Mean Girls Aren't Cool." After being bullied as a teenager, she decided to speak out. She led a special session just for seventh grade girls at the conference.
"I'd rather have bruises and broken bones. They heal," Jackson said to the room of girls. "We all love drama. We can hold a grudge forever. Don't be that girl."
Previous Comments
ID

160182

Comment

Bullying - a very interesting topic. Bullying touches on so many things, classism, ethnic background, social cliques, sports teams, even political interests. How do we exoect to stop bullying when kids see it everyday from grown peoples interactions with each other. Kids see their parents or elder family members driving like idiots and riding people's bumpers on the highway. Or they two grown people arguing with each other at the US Open Or they see their parents hating on someone, such as the current president, simply because he looks different from them. Or they go to Wal-Mart with you and some person comes bee-lining for the cash wrap and damn near run your child over just to beat you to that spot? What I am leading to, is this - we can't expect our children to behave better - if we are not behaving like adults are supposed to ourselves!? I think back to the situation last year when the little girl got on the bus in Yazoo with a gun. Now we understand that she couldn't take the abuse from the kids on the bus anymore; so she thought she would scare them or try to make them feel what she felt for a moment. But you never seen anyone ask, or at least to my knowledge, why were the kids picking on her? Was it because the parents in the area were talking about the young ladys mother and the kid were harboring their parents feelings towards the mother, and the kids were then making that same impression on the daughter? I have watched how my mother responded to people she did not like or care for, how she would gossip with other neighbors regarding another neighbor. Just because people are adults, doesn't mean the childish behavior. stops? Case in example, the young lady that was beat up at a classmates house and then they video taped the fight, then popped it up on youtube? To see the very same culprits parents come to their defense - with a blind eye scares me. So I hope conferences like this, address the actions of the parents or guardians of these children as well.

Author

Duan C.

Date

2010-10-01T11:25:53-06:00